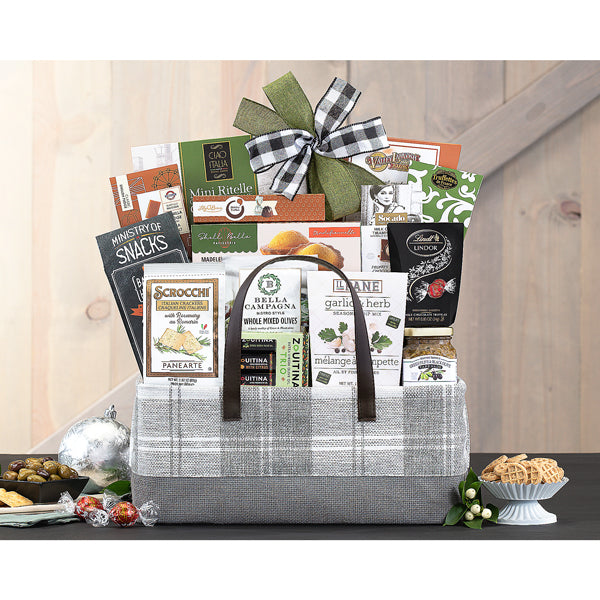 A collection of sweet and savory Wine Country favorites are piled high for this handcrafted gift basket. Lindt milk chocolate truffles, sesame cranberry cookies, a trio of olive oils and garlic herb dip mix, bacon habanero snacks, vanilla fudge with sea salt, rosemary crackers, green and black olive tapenade, sesame crackers, olives, tiramisu milk chocolate truffles, Lily O'Brien's sticky toffee, madeleine cakes and Truffettes truffles make The Connoisseur your go-to gift for families, friends and clients.
Contents include:
Ciao Italia Mini Ritelle Cranberry & Sesame Cookies (3.52oz)
Garlic & Herb Dip Mix (1oz)
Lily O'Brien's Sticky Toffee (3pc)
Lindt Lindor Milk Chocolate Truffle Balls (2pc)
Bacon Habanero Bites (2.8oz)
Shell Bella Madeleine (2pc)
Socado Tiramisu Milk Chocolate Truffles (3pc)
Truffettes de France Cocoa Dusted Truffles (4pc)
Vanilla Fudge with Sea Salt (2pc)
Sesame Crackers (2oz)
Olives (3.5oz)
Tapenade: Green & Black Olive (4.6oz)
Panearte Scrocchi Italian Crackers with Rosemary (2.82oz)
Zouitina Extra Virgin Olive Oil Boxed Set (2oz)
Gift Size: 15" x 7" x 13"