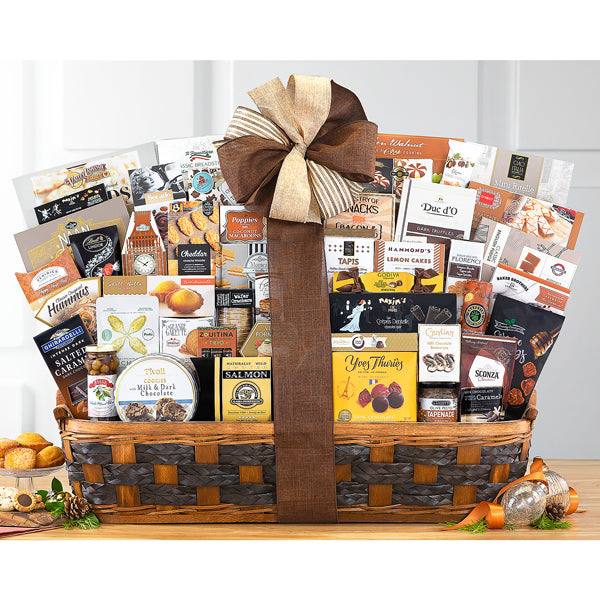 This distinctive gift basket is filled with dark chocolate crepes, Lindt and Godiva milk chocolate truffles, sesame crackers, smoked salmon, hummus, pesto olive tapenade, English tea, milk and dark chocolate cookies, vanilla sea salt caramels, a large Ghirardelli dark chocolate salted caramel bar, Lily O'Brien's sticky toffee, olives, cheddar cheese biscuits, brownies, vanilla fudge and much more, guaranteed to leave a lasting impression.
Contents include: 
Ahmad Tea English (20ct)
Chocolate Brownies (2pc)
Vino e Formaggio Smoked Gouda Cheese Spread (3.5oz)
D'Arcy Puff Pastries (4pc)
Lemon Cakes (3pc)
Feridies Happy Hour Heat Snack Mix (1.5oz)
Godiva Creme Brulee Truffles (2pc)
Hummus (3oz)
Maxim's Milk Chocolate Covered Hazelnuts (4pc)
Poppies Coconut Macaroons (2pc)
Alaska Smokehouse Smoked Salmon (2oz)
Olives (8.8oz)
Ghirardelli Bar Tablet Intense Dark Salted Caramel (3.5oz)
Monica's Vanilla Wafers (2.75oz)
Zouitina Extra Virgin Olive Oil Boxed Set (2oz)
Poshi Artichokes Basil & Thyme (1.58oz)
& So Much More!
Gift size 33" x 12" x 14"