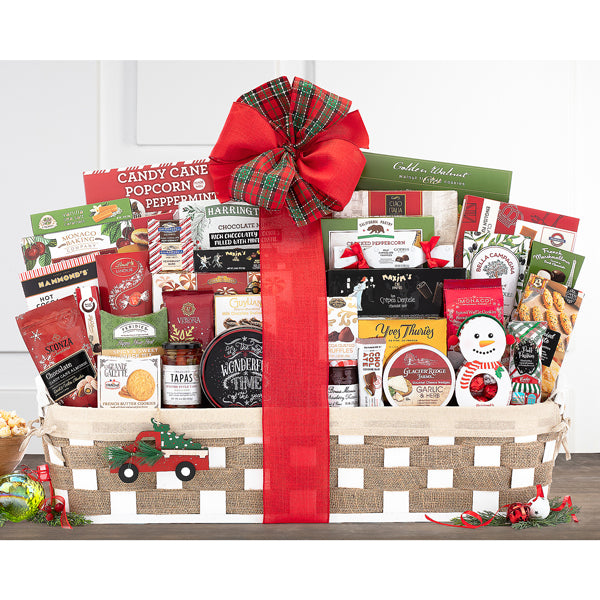 This impressive holiday gift basket is filled with so many gourmet treats, everyone will find something to enjoy. Dark chocolate peppermint truffles, butter cookies, Godiva and Lindt milk chocolate truffles, crackers, strawberry preserves, tapas, olives, vanilla sea salt caramels, walnut cookies, candy cane popcorn and almonds, chocolate hazelnuts, milk chocolate crepes, Ghirardelli peppermint bark, chocolate mint sandwich cookies and too much more to list make this grand holiday gift basket perfect for sharing.
Contents include:
Bridget's Peppermint/Dark Chocolate Truffles (5pc)
Cracked Peppercorn Crackers (2.5oz)
Candy Cane Popcorn with King Leo Peppermint (6oz)
Vanilla Sea Salt Caramels (4pc)
Chocmod French Marshmallows Covered in Dark Chocolate (3pc)
Ciao Italia Mini Ritelle Cranberry & Sesame Cookies (3.52oz)
Feridies Happy Hour Heat Snack Mix (1.5oz)
Godiva Truffle Milk Chocolate (2pc)
Walnut Cookies (6oz)
Lily O'Brien's Sticky Toffee (3pc)
Olives (3.5oz)
Ghirardelli Square Peppermint Bark (1pc)
Sconza Candy Cane Almonds (2.82oz)
Cherry Strudel (4.4oz)
Bonne Maman Strawberry Preserves (7.9oz)
& More

Gift Size: 33" x 9" x 15"