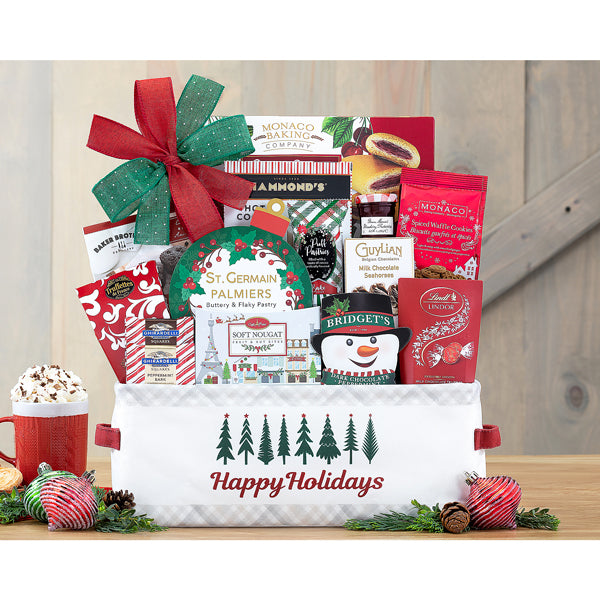 Wish them happy holidays with this collection of sweet and savory fare designed with the holidays in mind. Spiced waffle cookies, Lindt milk chocolate truffles, dark chocolate peppermint truffles, peanut fruit nougats, chocolate brownies, cherry strudel cookies, Truffettes dark chocolate truffles, strawberry preserves, Ghirardelli milk and dark chocolate peppermint bark, Belgian milk chocolate seahorse truffles, hot cocoa, chocolate filled puff pastry and more make this cordial gift the perfect way to create a great impression around the holidays.
Contents include:
Chocolate Brownie (2pc)
Bridget's Peppermint/Dark Chocolate Truffles (2pc)
Soft Nougat Fruit & Nut Bites (4pc)
Guylian Milk Chocolate Seahorses (3pc)
Hammond's Hot Cocoa Mix (0.85oz)
Lindt Lindor Milk Chocolate Truffle Balls (2pc)
St. Germain Palmiers Pastry (1pc)
Truffettes de France Cocoa Dusted Truffles (3pc)
Bonne Maman Strawberry Preserves (1oz)
Ghirardelli Square Peppermint Bark (1pc)
Ghirardelli Square Peppermint Bark w/Dark Chocolate (1pc)
Grona Cushion Chocolate Filled Puff Pastries (1.3oz)
Spiced Waffle Cookies (2.82oz)
Cherry Strudel (4.4oz)
 
Gift size 15" x 5" x 11"