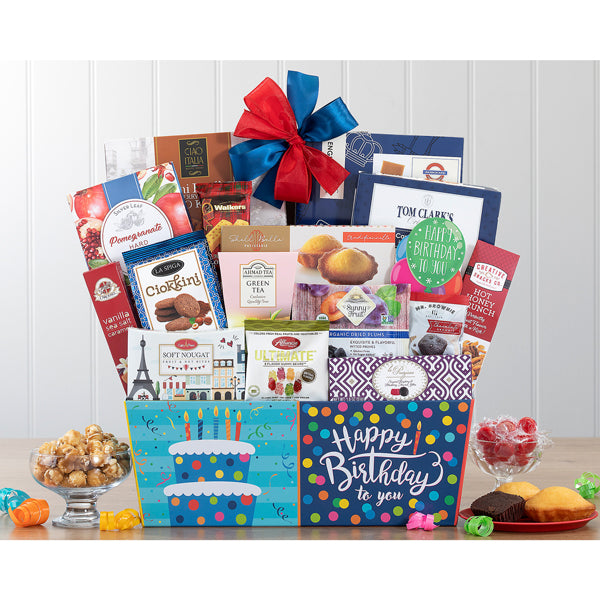 Let them know that you wish you could be there to celebrate with this heartwarming birthday collection. Vanilla fudge with sea salt, chocolate brownie, sweet and spicy snack mix, caramel corn, madeleine cakes, Ahmad green tea, Le Preziose fruit jelly candy and much more will help convey your best wishes.

Contents include:

Chocolate Brownie (1pc)
Soft Nougat Fruit & Nut Bites (4pc)
Vanilla Sea Salt Caramels (4pc)
Ciao Italia Mini Ritelle Cranberry & Sesame Cookies (3.52oz)
Creative Snacks Hot Honey Crunch Mix (1.5oz)
Le Preziose Blackberry & Raspberry Fruit Jellies (6pc)
Dolcetto Chocolate Wafer Bites (0.7oz)
Shell Bella Madeleine (2pc)
Pomegranate Candy (5oz)
Caramel Popcorn (3oz)
Vanilla Fudge with Sea Salt (5.3oz)
Green Tea (10ct)
Albanese Ultimate 8 Flavor Gummi Bears (0.75oz)
La Spiga Ciokkini Cookies (2.82oz)
Sunny Fruit Organic Dried Plums (1.06oz)
Walkers Shortbread Cookies (1oz)

Gift Size: 15" x 7" x 13"