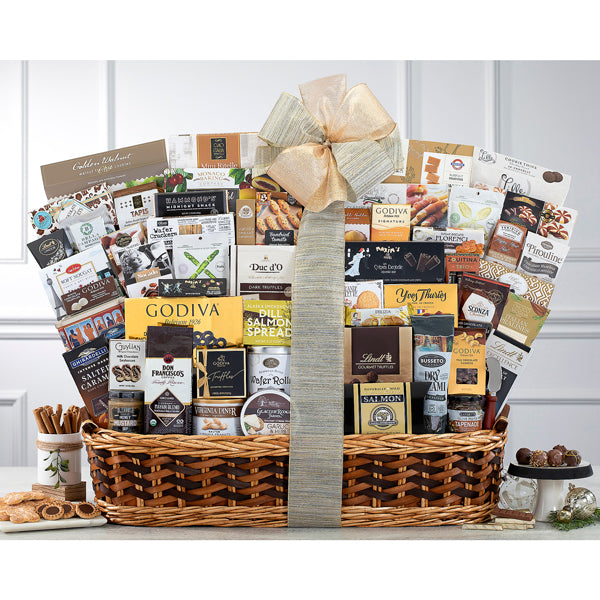 This extravagant gift basket is going to impress the whole crowd! A premium collection of Lindt and Godiva truffles, organic Mayan coffee, smoked salmon, black pepper salami, crackers, Ghirardelli salted caramel dark chocolate, fruit-filled puff pastries, dill salmon spread, Virginia peanuts, Godiva milk chocolate cashews, honey almond bars and milk chocolate pretzels, walnut cookies, olive tapenade, rosemary oregano asparagus snacks, cranberry sesame cookies, French butter cookies and that's just the beginning.

Contents include: 

Belvaux Cocoa Dusted Truffles (18pc)
Soft Nougat Fruit & Nut Bites (5.3oz)
Vanilla Sea Salt Caramels (4pc)
Choco Voglia Cream Filled Truffles (4pc)
Feridies Happy Hour Heat Snack Mix (1.5oz)
Walnut Cookies (6oz)
Ghirardelli Dark Chocolate Wafers (3.2oz)
Godiva Truffles White Chocolate (2pc)
Lille Chocolate Cookie Thins (3oz)
Lindt Lindor Milk Chocolate Truffle Balls (2pc)
Maxim's Milk Chocolate Covered Hazelnuts (4pc)
Shell Bella Madeleine (1pc)
Alaska Smokehouse Salmon Spread Dill (3.25oz)
Olives (3.5oz)
Lanzetti Pesto Olive Tapenade (6.5oz)
& So Much More
Gift Size: 32" x 11" x 14"