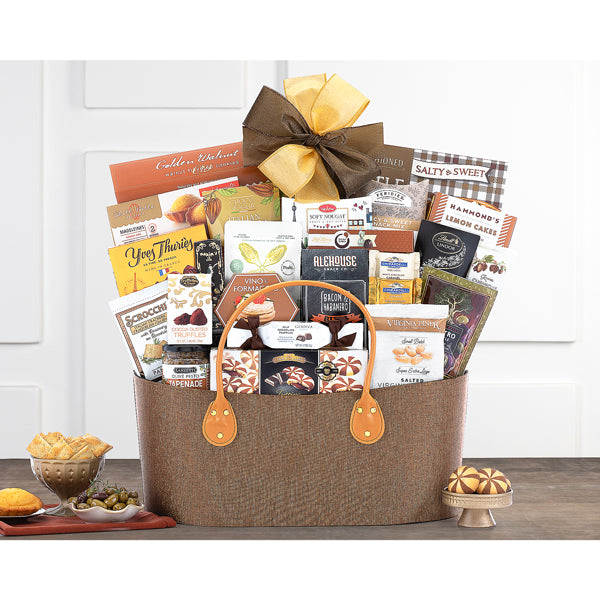 This abundant gift basket is filled with a collection of so much good stuff, they won't know where to begin! Sopressata salami, olives, cheddar cheese biscuits, vanilla fudge with sea salt, crackers, stone ground mustard, smoked Gouda cheese spread, chocolate brownies, cranberry sesame cookies, marinated artichoke snacks, Virginia peanuts, lemon cakes, vanilla caramels, English tea, sea salt caramel cookies, almond cookies, fruit jelly candy, shortbread cookies and items too numerous to list make it easy to share in the fun.
Contents include: 
Ahmad Tea English (20ct)
Vino e Formaggio Smoked Gouda Cheese Spread (3.5oz)
Creative Snacks Hot Honey Crunch Mix (1.5oz)
D'Arcy Puff Pastries (4pc)
Enstrom Dark Chocolate Almond Toffee (2pc)
Lemon Cakes (3pc)
Le Preziose Blackberry & Raspberry Fruit Jellies (6pc)
Shell Bella Madeleine (2pc)
Alehouse Sweet & Spicy Honey Mustard Dip (9oz)
Poshi Artichokes Basil & Thyme (1.58oz)
Virginia Diner Salted Peanuts (4oz)
Ghirardelli Square White Chocolate Caramel (1pc)
Olives (3.5oz)
Cookie Gallery Tuttino Chocolate Cream Cookie (5.3oz)
& More
Gift Size: 19" x 11" x 14"