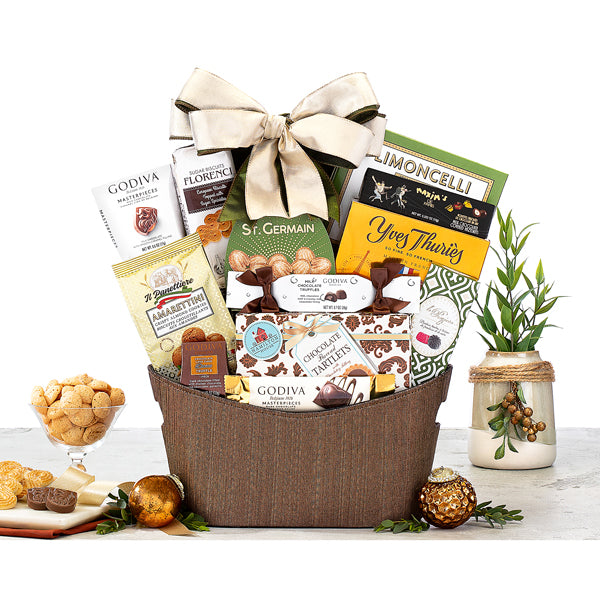 This gift basket is loaded with chocolate and sweets. Godiva milk chocolate caramels, a dark chocolate ganache heart bar, dark chocolate lava cake and milk chocolate truffles, Limoncelli cookies, blackberry and raspberry fruit jelly candy, dark chocolate truffles, sugar cookies, mint dark chocolate, almond cookies, puff pastry and chocolate filled cookies are impossible to resist.

Contents include:
Godiva Masterpieces Milk Chocolate Caramels (2pc)
Godiva Truffle Lava Cake (1pc)
Godiva Truffle Milk Chocolate (2pc)
Le Preziose Blackberry & Raspberry Fruit Jellies (6pc)
Maxim's Chocolates with Mint Filling (3pc)
St. Germain Palmiers Pastry (1.27oz)
Yves Thuries Dark Chocolate Ganache Truffles (6pc)
Florenci Sugar Cookies (6.2oz)
Godiva Bar Masterpiece Dark Chocolate Ganache Heart (1oz)
Hamilton House Tartlets Cookies w/Chocolate Flavored Filling (4.94oz)
IL Panettiere Amarettini Almond Cookies (2.82oz)
Panearte Limoncelli Cookies (3.52oz)
Gift Size: 12" x 6" x 11"