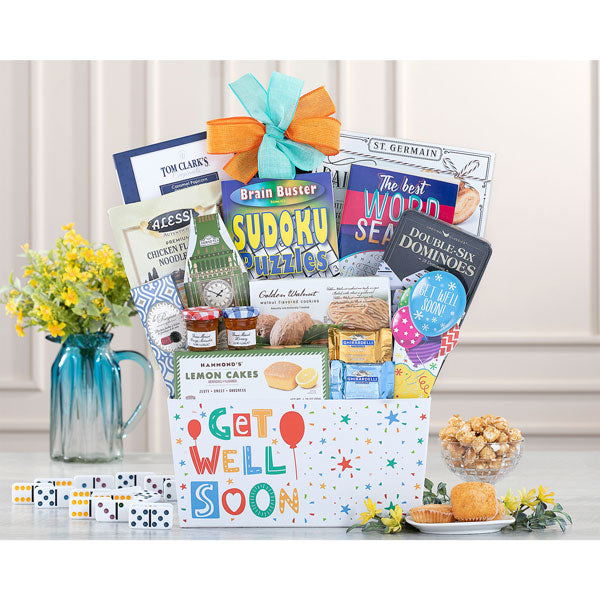 Brighten their day with this comforting selection. They'll enjoy chicken noodle soup, English tea, cookies and sweets while a Dominoes set, Find a Word and Sudoku puzzle books help them pass the time as they enjoy sampling this thoughtful collection.
Contents include:
Le Preziose Blackberry & Raspberry Fruit Jellies (6pc)
Walnut Cookies (3oz)
Lemon Cakes (2pc)
St. Germain Palmiers Pastry (3pc)
Salutations Box - Get Well Soon! - Dolcetto Lemon Wafer Bites (0.7oz)
Caramel Popcorn (3oz)
Bonne Maman Honey (1oz)
Bonne Maman Orange Marmalade (1oz)
Ahmad English Tea (20ct)
Alessi Chicken Flavored Noodle Soup (6oz)
Ghirardelli Dark & Caramel Sea Salt Square (1pc)
Ghirardelli Milk Chocolate w/Caramel Filling Square (1pc)
Dominoes
Word Puzzle Book
Sudoku Puzzle Book

 Gift Size: 12" x 7" x 14"