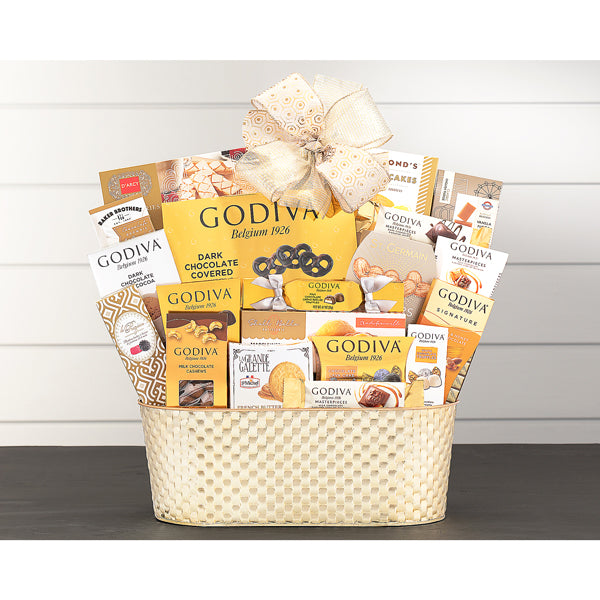 This gift is loaded with all the best of Godiva and an impressive collection of sweets: Godiva cr me br l e, lava cake, milk and white chocolate truffles, dark chocolate ganache and milk chocolate caramel lion bars, milk chocolate cashews, dark chocolate hot cocoa, milk chocolate caramels, milk chocolate honey almond bars and Godiva dark chocolate pretzels. Lemon and madeleine cakes, puff pastries, raspberry and blackberry fruit jelly candy, French French butter cookies, a brownie and more arrive in this golden metal gift basket.
Contents include: 
Baker Brothers Chocolate Brownie (1pc)
Godiva Dark Chocolate Cocoa (1pc)
Godiva Dark Chocolate Covered Pretzels (2pc)
Godiva Lava Cake Truffle (3pc)
Godiva Creme Brulee Truffle (2pc)
Godiva Milk Chocolate Truffle (5pc)
Godiva White Chocolate Truffles (2pc)
Hammond's Lemon Cakes (3pc)
Le Preziose Blackberry and Raspberry Fruit Jellies (6pc)
Shell Bella Madeleine (2pc)
Vanilla Fudge with Sea Salt (2pc)
Godiva Masterpiece Dark Chocolate Ganache Heart Bar (1oz)
Godiva Masterpiece Milk Chocolate Caramel Lion Bar (1.1oz)
Godiva Chocolate Covered Nuts Milk Cashews (2oz)
& More
Gift Size: 15" x 7" x 11"