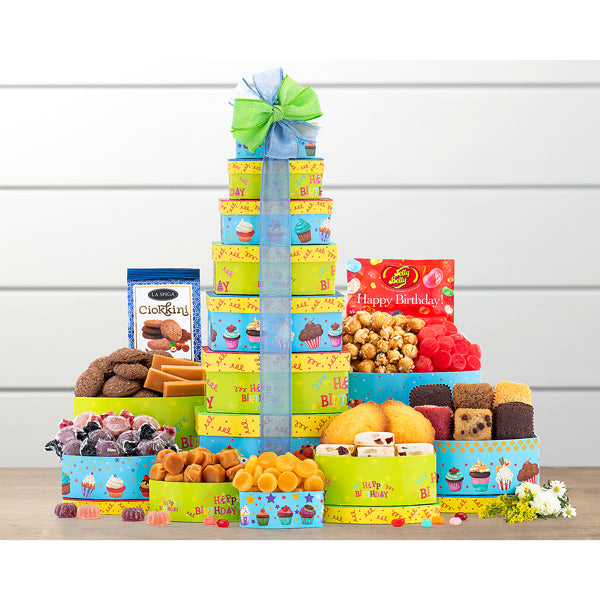 This large birthday tower is loaded with party starters. An assortment of brownies, cookies and cakes, Jelly Belly jelly beans, English fudge with sea salt, pomegranate candy, caramel corn, Italian fruit jelly candy, vanilla caramels and peanut fruit nougats are stacked high for this large birthday gift tower.
Contents include:

Le Preziose Fruit Jelly Candy (10pc)
Vanilla Caramels (3oz)
Pomegranate Candy (5oz)
Nougat Peanuts and Fruits (4pc)
Shell Bella Madeleine Cake (2pc)
Chocolate Brownie (1pc)
Blondie Brownie (1pc)
Coffee Brownie (1pc)
Cookie Butter Cake (1pc)
Lemon Cake (1pc) Raspberry Cake (1pc)
English Fudge Sea Salt (4pc)
Jelly Belly (1oz)
La Spiga Ciokkini Cookies (2.82oz)
Caramel Popcorn (3oz)
Butterscotch Flavored Hard Candies (3oz)

Gift Size: 7" x 6" x 16"