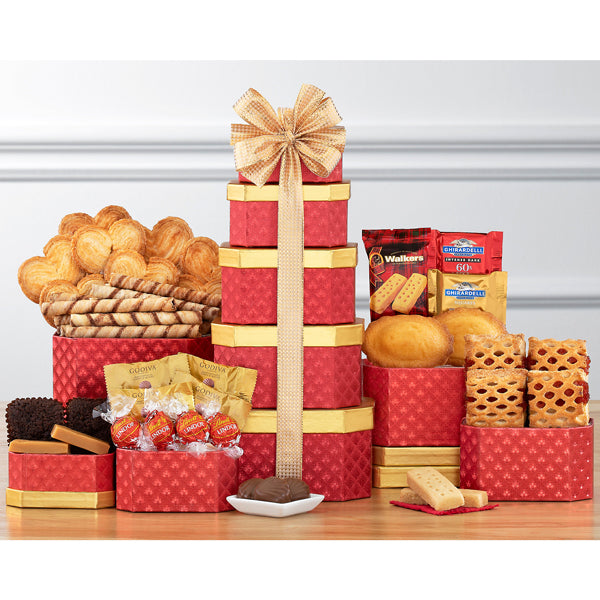 This delightful sweets tower is a wonderful way to convey your best wishes for friends, colleagues and family. Each box is hand-pack with a different delicious treat. Assortment includes English fudge with sea salt, chocolate brownie, Shell Bella madeleine cakes, Lindt Lindor milk chocolate truffle balls, Ghirardelli milk and dark chocolate squares, Grona fruit puff pastries and more.
Contents include:

Lindt Lindor Milk Chocolate Truffle Balls (3pc)
Ghirardelli Square Intense Dark 60% Cacao (1pc)
Ghirardelli Square Milk Chocolate w/Caramel (1pc)
Baker Brothers Chocolate Brownie w/Chocolate Chips (2pc)
Shell Bella Madeleine Cake (2pc)
Grona Fruit Filled Pastries (2pc)
Godiva Milk Chocolate Hazelnut Singe Piece (3pc)
Walkers Shortbread Cookies (2pc)
Underground Fudge Company Classic English Fudge Sea Salt (2pc)
Pirouline Chocolate Hazelnut Rolled Wafer Cookies (3.25oz)
Grona Palmiers Pastries (2pc)

Gift Size: 6" x 4" x 13"