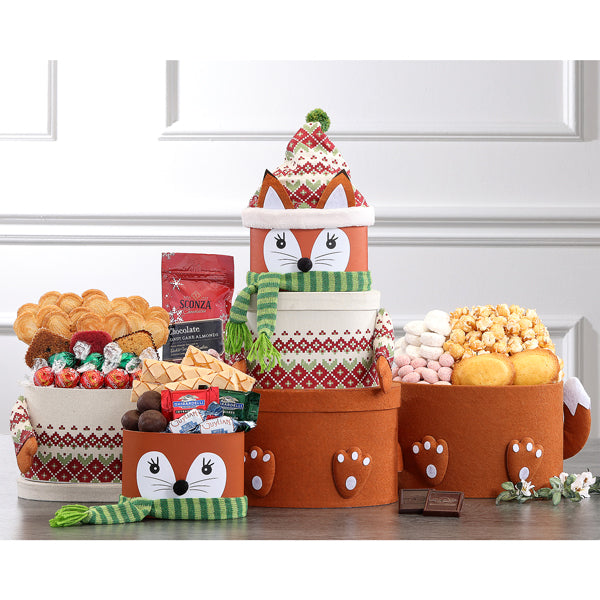 This happy little fellow comes bearing gifts. Each of his three round boxes contains a sumptuous surprise. A bounty of Ghirardelli chocolate squares, Grona puff pastries, Lindt Lindor chocolate truffle balls, lemon cake, Socado milk chocolate amaretto truffles, brown butter kettle corn popcorn more are just some of Wine Country holiday favorites. The adorable fox makes a great winter decoration once all the goodies have been enjoyed.

Contents include:

Cookie Butter Cake (1pc)
Lemon Cake (1pc)
Raspberry Cake (1pc)
Lindt Lindor Milk Chocolate Truffle Balls (5pc)
Shell Bella Madeleine Cake (2pc)
Almond Tea Cookies (3oz)
Guylian Temptations Milk Truffle (2pc)
Socado Milk Chocolate Amaretto Truffle (3pc)
Ghirardelli Dark Chocolate Mint Square (1pc)
Ghirardelli Intense Dark 60% Cacao Square (1pc)
Chocmod Dark Chocolate Covered Marshmallows (3pc)
Grona Pastries (4pc)
Sconza Candy Cane Almonds (2.82oz)
Tom Clark Brown Butter Kettle Corn Popcorn (6oz)

Gift Size: 9" x 6" x 15"