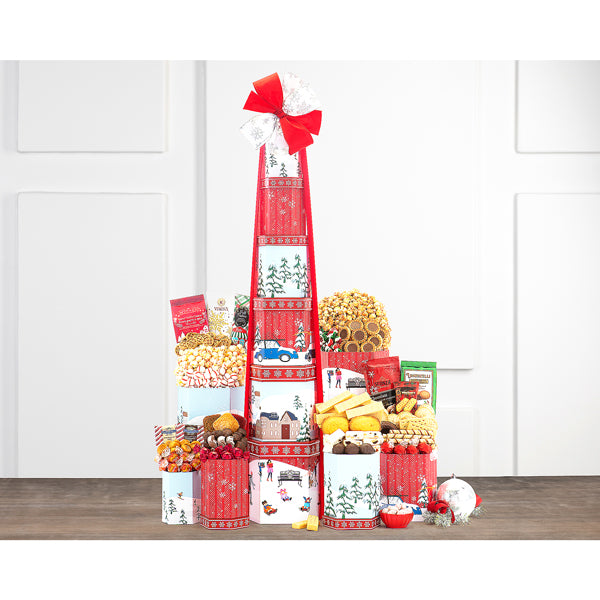 This colossal holiday tower includes festive box after box of gourmet delights. A collection of Lindt and Truffettes truffles, caramel popcorn, peppermint dark chocolate, spiced waffle cookies, candy cane almonds, Ghirardelli milk and dark chocolate peppermint bark, vanilla caramels, Walkers shortbread cookies, assorted cakes and much more fills these six large, decorative boxes.
Contents include: 
Lindt Lindor Milk Chocolate Truffle Balls (6pc)
Lemon Cake (1pc)
Raspberry Cake (1pc)
Vanilla Caramels (3oz)
Guylian Temptations Milk Chocolate Truffle (3pc)
Ghirardelli Peppermint Bark w/Dark Chocolate Square (1pc)
Ghirardelli Peppermint Bark Square (1pc)
Chocmod Dark Chocolate Covered Marshmallows (3pc)
Truffettes de France Cocoa Dusted Truffles (4pc)
Shell Bella Madeleine Cake (2pc)
Cookie Butter Cake (1pc)
Caramel Popcorn (16oz)
Spiced Waffle Cookies (2.82oz)
King Leo Peppermint Puffs (5oz)
Nougat Peanuts and Fruits (5.3oz)
& More
Gift Size: 38" x 8" x 7"