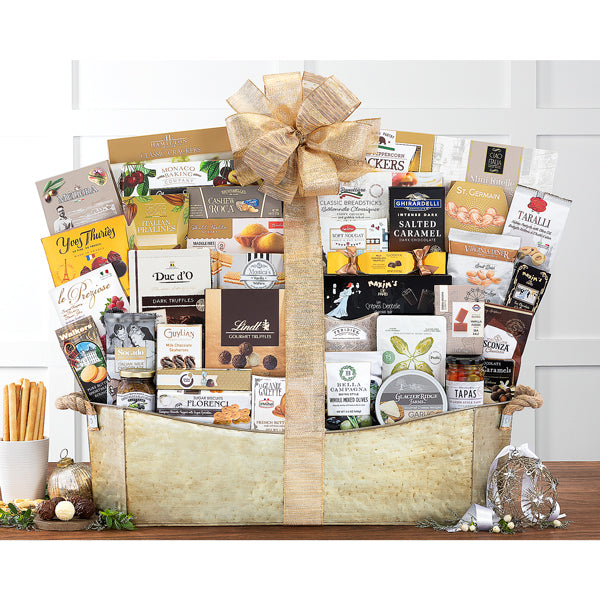 It doesn't get much better than The VIP.
Overflowing with sweet and savory snacks like Spanish style tapas, a large Ghirardelli dark chocolate salted caramel bar, peppercorn crackers, garlic herb cheese wedges, Virginia peanuts, cranberry sesame cookies, basil thyme artichoke snacks, Lindt and Godiva milk chocolate truffles and much more, this is the gift basket to send to show appreciation the whole year through.
Contents include: 
Belvaux Cocoa Dusted Truffles (18pc)
Brown & Haley Cashew Roca (2pc)
Soft Nougat Fruit & Nut Bites (4pc)
Cracked Peppercorn Crackers (2.5oz)
Feridies Happy Hour Heat Snack Mix (1.5oz)
Godiva Milk Chocolate Truffles (2pc)
Le Preziose Assorted Fruit Jellies (2.1oz)
Lily O'Brien's Sticky Toffee (3pc)
Meliora Garlic & Herb Bruschette (2.82oz)
Vanilla Fudge with Sea Salt (2pc)
Shell Bella Madeleine (2pc)
Olives (3.5oz)
Ghirardelli Dark Chocolate Salted Caramel Bar (3.5oz)
Glacier Ridge Farms Garlic & Herb Cheese Wedges (4oz)
Poshi Artichokes Basil & Thyme (1.58oz)
& So Much More
Gift Size: 27" x 9" x 14"