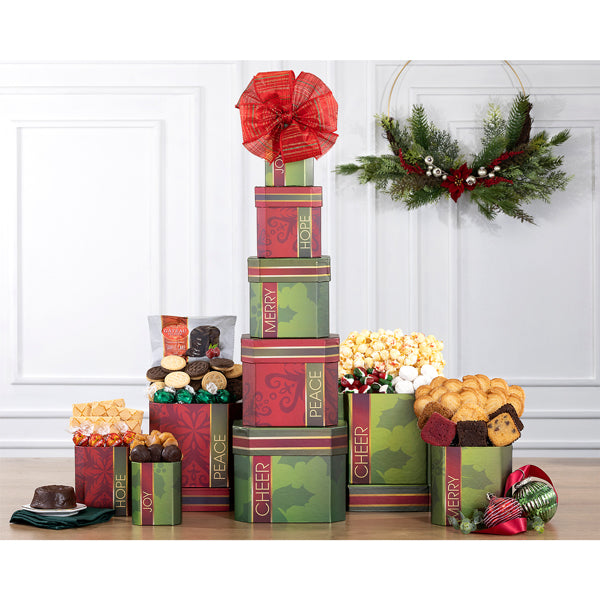 This charming gift tower is a great way to send your holiday wishes. Lindt Lindor milk chocolate truffles balls, almond tea cookies, tutti frutti hard candies, cookie butter cake, lemon cake, raspberry cake, assorted cookies, dark chocolate covered marshmallows, assorted brownies and candy cane popcorn are all nestled in five holiday themed boxes.
These delightful boxes are great for decorating any office or home.
Contents include:
Lindt Lindor Milk Chocolate Truffle Balls (4pc)
Dark Chocolate Covered Marshmallows (3pc)
Chocolate Brownie (1pc)
Blondie Brownie (1pc)
Coffee Brownie (1pc)
Cookie Butter Cake (1pc)
Lemon Cake (1pc)
Raspberry Cake (1pc)
Socado Truffle Milk Chocolate Amaretto (3pc)
Vanilla Caramels (3oz)
Powdered Almond Tea Cookies (3oz)
Grona Puff Pastries (4pc)
Tutti Frutti Hard Candies (4oz)
Abimar Duplex Creme Cookies (5oz)
Candy Cane Popcorn (6oz)
Gateau Celeste Chocolate Sauce Souffle Cake (1.94oz)

Gift size 27" x 7" x 5"