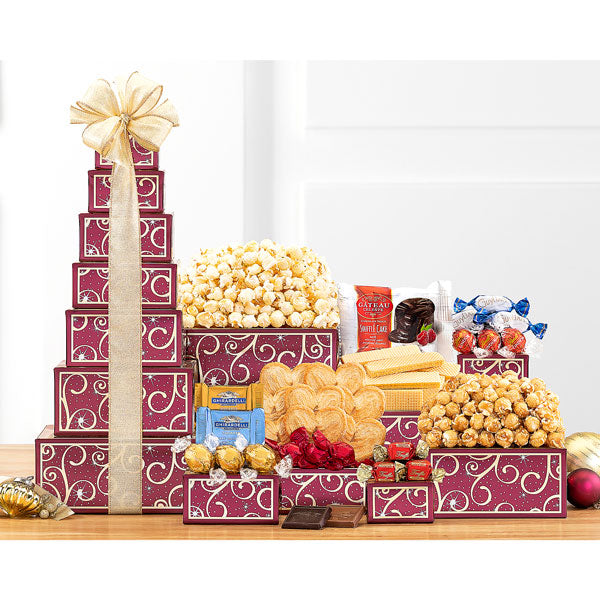 This Chocolate and Sweets gift tower makes it easy to send your best wishes. Ghirardelli milk chocolate with caramel and dark chocolate with caramel and sea salt, Yves Thuries dark chocolate truffles, caramel popcorn, Guylian Temptations Belgian milk chocolate truffles, vanilla wafers, kettle corn, Lindt Lindor milk chocolate truffles, puff pastries, Belvaux traditional Belgian truffles, Italian tiramisu truffles and a chocolate souffle pastry are neatly packed in a tower of beautifully decorated boxes, finished with a hand-tied bow.
Contents include:

Guylian Temptations Milk Truffle (3pc)
Lindt Lindor Milk Chocolate Truffle Balls (3pc)
Ghirardelli Square Dark & Caramel Sea Salt (1pc)
Ghirardelli Square Milk Chocolate w/Caramel Filling (1pc)
Belvaux Traditional Truffles (3pc)
Yves Thuries Dark Chocolate Ganache Truffle Ball (3pc)
Socado Truffle Tiramisu Milk Chocolate (3pc)
Grona Palmiers Puff Pastry (2pc)
Monica's Vanilla Wafers (2.75oz)
Gateau Celeste Chocolate Sauce Souffle Cake (1.94oz)
Caramel Popcorn (6oz)
Old Fashioned Kettle Corn (6oz)

Gift Size: 8" x 6" x 17"