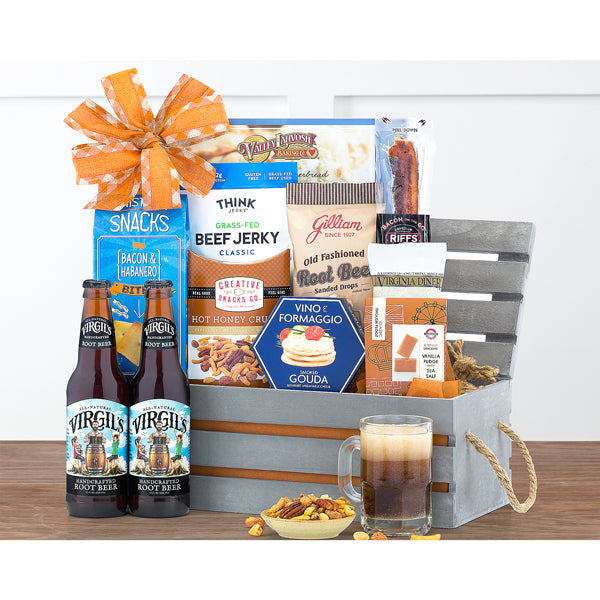 Virgil's rich and creamy root bear is small batch brewed with fifteen different all-natural roots and spices. Two bottles of root beet, beef jerky, bacon snacks, root beer candy, peanuts, vanilla fudge with sea salt, crackers, smoked gouda cheese spread and spicy honey crunch snack mix are great for sharing.
Contents include:

Vino e Formaggio Smoked Gouda Cheese Spread (3.5oz)
Hot Honey Crunch Mix (1.5oz)
Salem Baking Cheddar Cheese Straws (1.5oz)
Vanilla Fudge with Sea Salt (2pc)
Think Jerky Classic Beef Jerky (1oz)
Valley Lahvosh Sesame Rounds Crackers (4oz)
Riffs Bacon on the Go Sweet (0.7oz)
Salted Virginia Peanuts (1.5oz)
Gilliam Old Fashioned Root Beer Sanded Drops (4.5oz)
Virgil's Root Beer (2 Bottles - 12oz each)

Gift Size: 13" x 7" x 13"