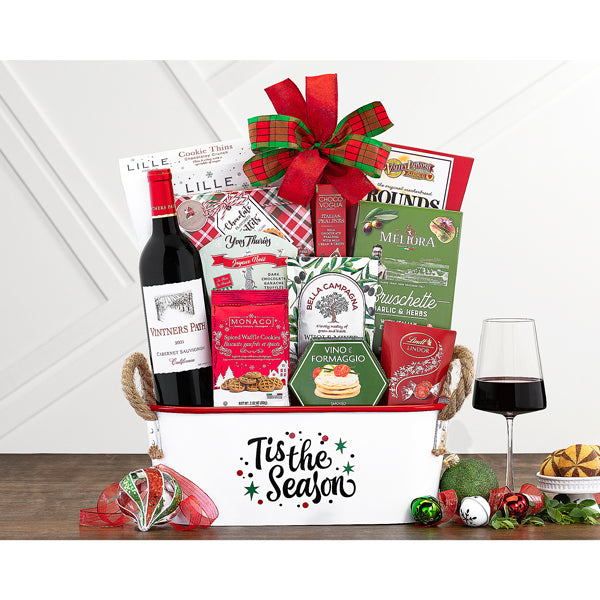 This holiday wine basket arrives with California's Vintners Path cabernet sauvignon with black cherry and blackberry flavors leading to a long, smooth finish OR California's Vintners Path chardonnay with apricot, peach and lemon notes leading to a finish with hints of vanilla and melon. A varied assortment of Lille chocolate cookie thins, sesame crackers, smoked Gouda cheese spread, Lindt milk chocolate truffles, mixed green and black olives, taralli Italian pretzels, dark chocolate truffles and more complete this holiday gift basket.
Contents include:
Vintners Path Winery Cabernet Sauvignon OR Chardonnay (750ml)
Smoked Gouda Cheese Spread (3.5oz)
Choco Voglia Cream Filled Truffles (3pc)
Pretzel Sticks (2.8oz)
Lille Chocolate Cookie Thins (3oz)
Lindt Lindor Milk Chocolate Truffle Balls (2pc)
Sesame Crackers (2oz)
Yves Thuries Dark Chocolate Ganache Truffles (4pc)
Olives (3.5oz)
Hamilton House Tartlets Cookies w/Chocolate Flavored Filling (4.94oz)
Spiced Waffle Cookies (2.82oz)
Gift Size: 15" x 7" x 13"