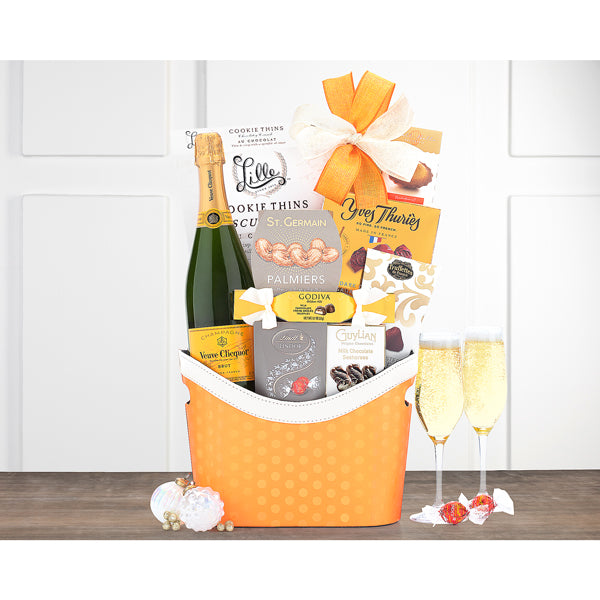 Does NOT ship to AR, CO, GA, KS, KY, ME, MI, MS, NY, OH, OK, SD, TX, UT, or VT.
Veuve Clicquot Yellow Label champagne distinguishes itself through the dominance of pinot noir; fruity and structured with flavors of poached pear, grated ginger and light cream, it is the signature champagne of the House. Paired with a wonderful assortment of Godiva creme brulee truffles, chocolate cookies, Belgian chocolate seahorse truffles, madeleine cakes, puff pastry, Yves Thuries and Truffettes dark chocolate truffles, they'll remember this gift long after the final toast.
Contents include:

Veuve Clicquot Champagne (750ml)
Godiva Truffles Creme Brulee (2pc)
Guylian Milk Chocolate Seahorses (3pc)
Lille Chocolate Cookie Thins (3oz)
Lindt Lindor Milk Chocolate Truffle Balls (2pc)
Shell Bella Madeleine (1pc)
St. Germain Palmiers Pastry (1.27oz)
Truffettes de France Cocoa Dusted Truffles (5pc)
Yves Thuries Dark Chocolate Ganache Truffles (6pc)
Gift Size: 11" x 6" x 15"