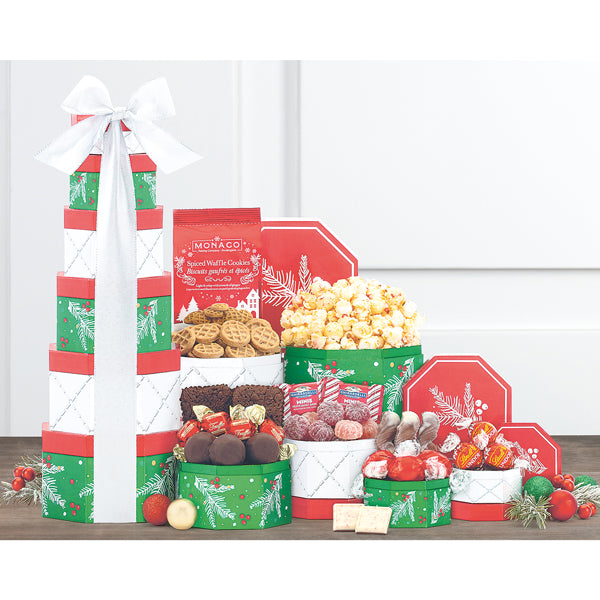 Tis the season to celebrate and this holiday gift tower loaded with chocolate makes it easy. Six festive boxes are filled to the brim with Ghirardelli milk chocolate peppermint bark, dark chocolate covered marshmallows, Belvaux and Guylian traditional chocolate truffles, candy cane popcorn, chocolate chip brownies, fruit jelly candy, Lindt milk chocolate truffles, spiced waffle cookies, dark chocolate peppermint truffles and Lily O'Brien's sticky toffee with smooth caramel smothered in milk and dark chocolate. This gift is loaded with holiday fare for all to enjoy. 
Contents include: 
Lindt Lindor Milk Chocolate Truffle Balls (3pc)
Socado Truffle Peppermint Dark Chocolate (3pc)
Guylian Temptations Milk Truffle (3pc)
Ghirardelli Square Mini Holiday Peppermint Bark (2pc)
Le Preziose Sugared Jellies Blackberry & Raspberry (2.1oz)
Belvaux Traditional Truffles (4pc)
Chocmod Dark Chocolate Covered Marshmallows (3pc)
Baker Brothers Chocolate Brownie w/Chocolate Chips (2pc)
Spiced Waffle Cookies (2.82oz)
Tom Clark Popcorn Candy Cane (4.5oz)
Gift Size: 6" x 6" x 16"