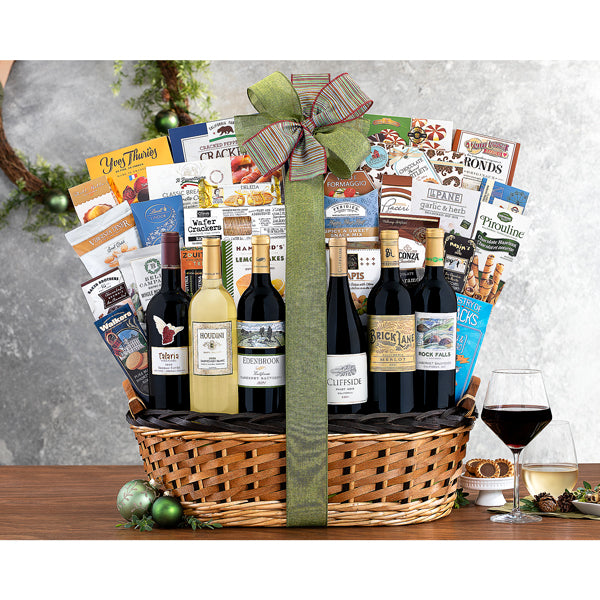 Does NOT ship to MS, SD, or UT.
Six California wines are paired with a complementary assortment of Wine Country favorites to create this gift of California's finest. Cabernet, chardonnay, merlot, pinot noir, Napa sauvignon blanc and Sonoma red blend arrive with a large assortment of snacks including chocolate cookies, lemon cakes, sesame crackers, smoked Gouda cheese spread, vanilla sea salt caramels, chocolate hazelnuts, vanilla fudge, milk and dark chocolate truffles, olives, peppercorn crackers, Virginia peanuts, Walkers shortbread cookies and so much more.
Contents include: 
Houdini Sauvignon Blanc (750ml)
Hobson Estate Chardonnay (750ml)
Brick Lane Wine Works Merlot (750ml)
Cliffside Pinot Noir (750ml)
Rock Falls Vineyards Cabernet Sauvignon (750ml)
Talaria Vineyards Red Cuvee (750ml)
Chocolate Brownie (1pc)
Cracked Peppercorn Crackers (2.5oz)
Vino e Formaggio Smoked Gouda Cheese Spread (3.5oz)
Feridies Happy Hour Heat Snack Mix (1.5oz)
Hammond's Lemon Cakes (3pc)
Garlic & Herb Dip Mix (1oz)
Lindt Lindor Milk Chocolate Truffle Balls (2pc)
Bella Campagna Olives (3.5oz)
Bread Sticks (4.4oz)
Zouitina Extra Virgin Olive Oil Boxed Set (2oz)
& More
Gift Size: 22" x 15" x 14"