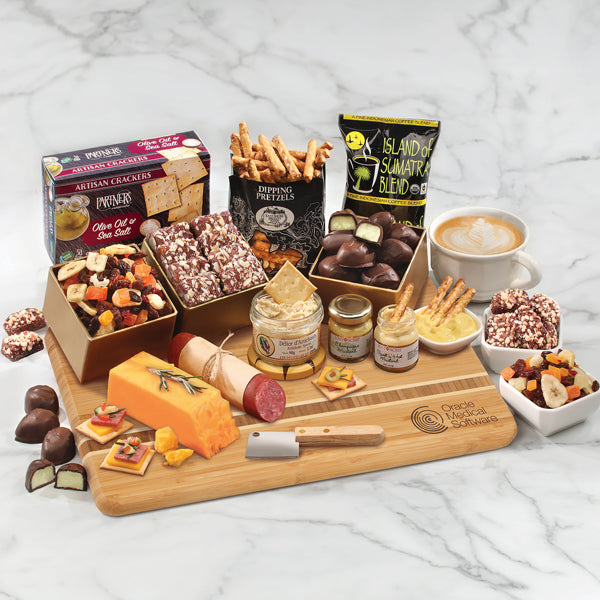 Minimum Order: 4
This eco-friendly bamboo board is firebranded with your choice of logo, or none, and packed with a charcuterie assortment that explodes with unforgettable flavor. From dreamy lemon creams to rich artichoke spread, from a tart fruit medley to snackable Wisconsin cheese and sausage, there is no end to the experience of this gift. The unique board is a superb, lasting reminder of your appreciation. Serves 12-14.
Contents include:
Private Stock Mild Cheddar Cheese, 7 oz.
Beef Summer Sausage, 5 oz.
Artichoke Spread, 3.1 oz.
Champagne Mustard, 1.4 oz.
Sweet & Hot Mustard, 1.4 oz.
Gourmet Fruit Medley, 5 oz.
12 Pieces of English Butter Toffee, 5 oz.
8 Dark Chocolate Lemon Creams, 1/4 lb.
Olive Oil & Sea Salt Crackers, 2 oz.
Dipping Pretzels, 2 oz.
Island of Sumatra Coffee, 2.5 oz.
Meat & Cheese Cleaver
Cutting Board: 15" × 11" × 0.75"