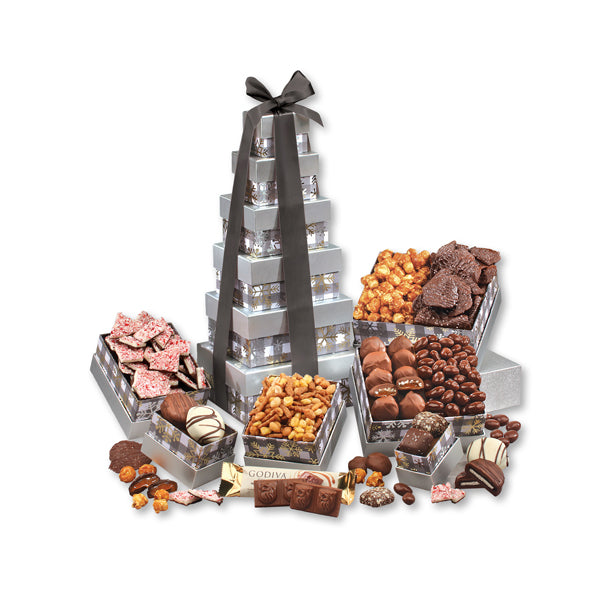 Minimum Order: 6
Six snowflake-adorned boxes are stacked high and filled with a selection of sweet treats. Including chocolates, popcorn, and more, this tower is perfect for a large office or family to share. Each tower is tied with pewter satin ribbon imprinted with your logo in your choice of color and is sure to get every recipient talking about your thoughtfulness.
Contents include:
Individually-wrapped Chocolate Sea Salt Caramel, .6 oz.
Individually-wrapped English Butter Toffee, .5 oz.
2 Chocolate Dipped Oreo® Cookies, 1 oz. each
Sweet & Salty Mix, 5 oz.
Peppermint Bark, 5 oz.
Milk Chocolate Almonds, 5 oz.
8 Pecan Turtles, 1/4 lb.
Godiva® Chocolate Caramel Bar, 1.1 oz.
Chocolate Sea Salt Potato Chips, 5 oz.
Caramel Cheesecorn Overload, 5 oz.
Tower size: 6.5" × 5.75" × 15.75"