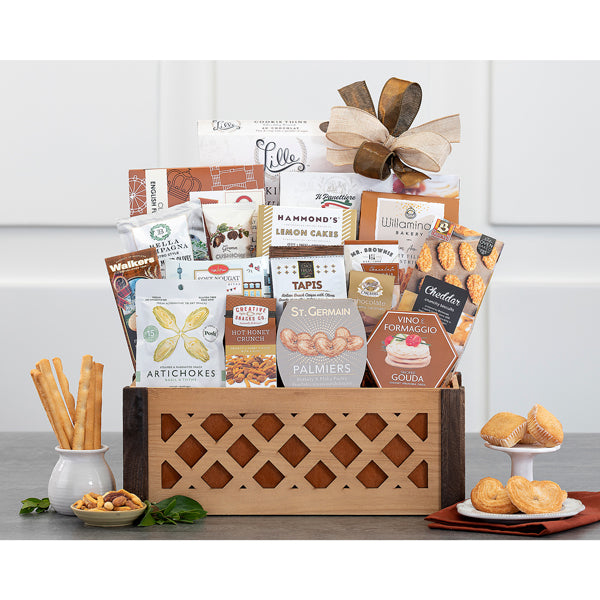 This exquisite gift basket is loaded with smoked Gouda cheese spread, spicy honey crunch snack mix, lemon cakes, Lille chocolate cookie thins, chocolate brownies, Bella Campagna mixed olives, Poshi basil and thyme artichokes, cookies, bread sticks and crackers are nested in a handy wooden crate. It's a perfect gourmet gift basket for any occasion.
Contents include: 
Smoked Gouda Cheese Spread (3.5oz)
Chocolate Caramels (4pc)
Hot Honey Crunch Mix (1.5oz)
Lemon Cakes (3pc)
Lille Chocolate Cookie Thins (3oz)
Soft Nougat Fruit and Nuit Bites (4pc)
Olives (3.5oz)
Vanilla with Sea Salt (5.3oz)
Buiteman Cheddar Cheese Biscuits (2.6oz)
Chocolate Brownie (1pc)
Grona Puff Pastries (1.3oz)
Bread Sticks (4.4oz)
Panearte Scrocchi Italian Crackers with Rosemary (2.82oz)
Poshi Artichokes Basil & Thyme (1.58oz)
& More
Gift Size: 16" x 7" x 13"