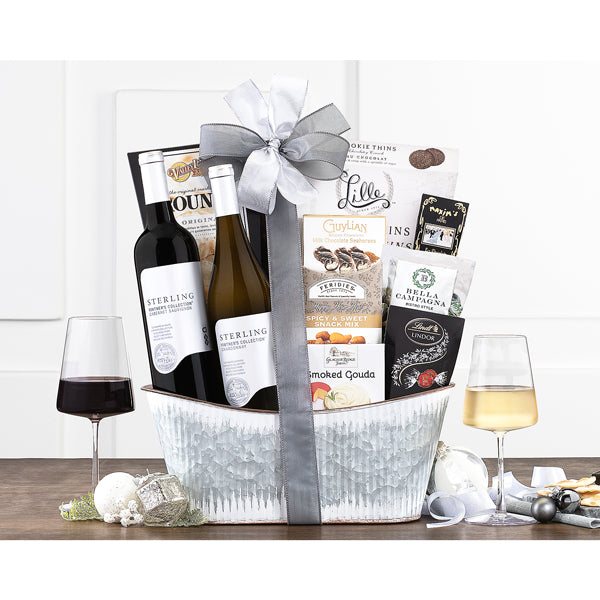 Does NOT ship to AR, CO, GA, KS, KY, ME, MI, MS, NY, OH, OK, SD, TX, UT, or VT.
Send this beautiful wine basket featuring two handcrafted wines from Sterling Vintner's Collection. Central Coast cabernet has dark berry flavors with hints of vanilla and spice; chardonnay has pineapple and green apple on the palate enhanced by subtle buttery notes. Chocolate cookies, sesame crackers, smoked Gouda cheese spread, spicy snack mix, olives, Belgian milk chocolate seahorse truffles, chocolate mints and Lindt milk chocolate truffles complete this gourmet wine gift.

Contents include: 
Sterling Vintner's Collection:
Cabernet Sauvignon (750ml)
Chardonnay (750ml)
Glacier Ridge Farms Smoked Gouda Cheese Spread (3.5oz)
Feridies Happy Hour Heat Snack Mix (1.5oz)
Guylian Milk Chocolate Seahorses (3pc)
Lille Chocolate Cookie Thins (3oz)
Lindt Lindor Milk Chocolate Truffle Balls (2pc)
Maxim's Chocolates with Mint Filling (3pc)
Sesame Crackers (2oz)
Bella Campagna Olives (3.5oz)

Gift Size: 14" x 5" x 14"