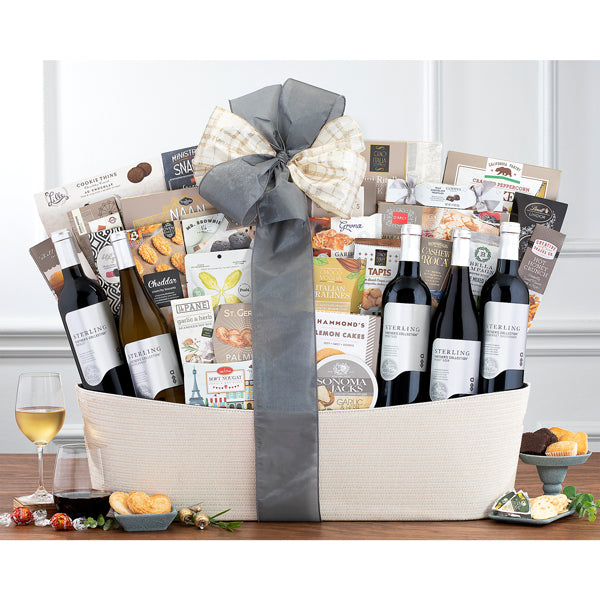 Does NOT ship to AR, GA, KS, KY, ME, MS, NY, OH, OK, SD, TX, UT, or VT.
Five bottles of Sterling wine and an assortment of favorites fill this gourmet gift. Rich cabernet sauvignon with blackberry, currant and chocolate flavors, chardonnay with flavors of tropical fruit and peach, pinot noir, fruity red blend and meritage - a smooth blend of cabernet sauvignon, merlot, petit verdot and malbec, are all hand-packed with an assortment of complementary food including crackers, mixed olives, fruit jellies, garlic and herb cheese spread, assorted cookies and much more.
Contents include:
Sterling Vintner's Collection:
Meritage (750ml)
Cabernet Sauvignon (750ml)
Chardonnay (750ml)
Red Blend (750ml)
Pinot Noir (750ml)
Bacon Habanero Bites (2.8oz)
Spicy Honey Crunch Snack Mix (1.5oz)
Almond Cookies (2.82oz)
Bella Campagna Mixed Olives (3.5oz)
Lemon Cakes (3pc)
Le Preziose Blackberry & Raspberry Fruit Jellies (6pc)
Cherry Strudel (4.4oz)
Sonoma Jacks Cheese Wedges Garlic & Herb (4oz)
Poshi Artichokes Basil & Thyme (1.58oz)
Godiva Lava Cake Truffles (2pc)
Pirouline Chocolate Hazelnut Wafer Cookies (3.25oz)
and More

Gift Size: 26" x 10" x 13"