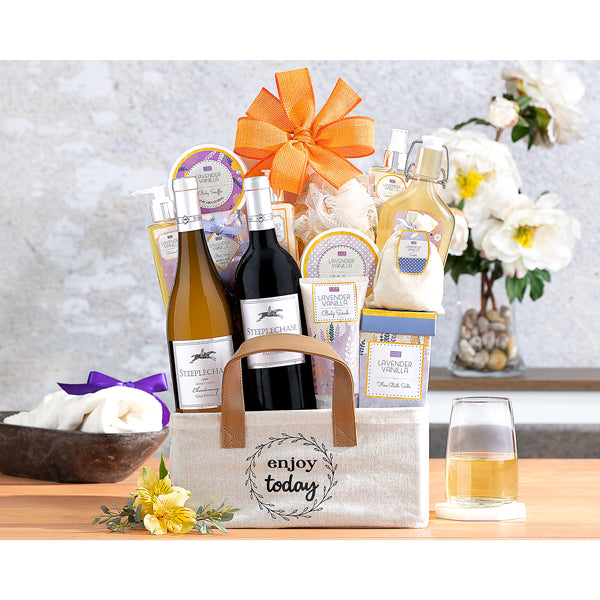 California's Steeplechase Vineyards cabernet and chardonnay are brought together with a collection of Cru de Provence lavender vanilla scented spa products including body lotion, bar soap, bath caviar, body scrub, shower gel, a mesh sponge and so much more. A lavender sachet bag, to keep the house smelling fresh, completes this tranquil wine and spa gift basket.
Contents include:

Steeplechase Vineyards Cabernet Sauvignon (750ml)
Steeplechase Chardonnay (750ml)
Cru De Provence Lavender Vanilla Scented:
Bar Soap (4.9oz)
Bath Caviar (4.52oz)
Body Lotion (7.24oz)
Body Scrub (6.02oz)
Bubble Bath (9.64oz)
Shower Gel (7.24oz)
Body Souffle (4.06oz)
Bath Salts (13.93oz)
Sheet Spread (7.78oz)
Canvas Sachet Bag Lavender Scented
Sisal Sponge

Gift Size: 12" x 8" x 13"