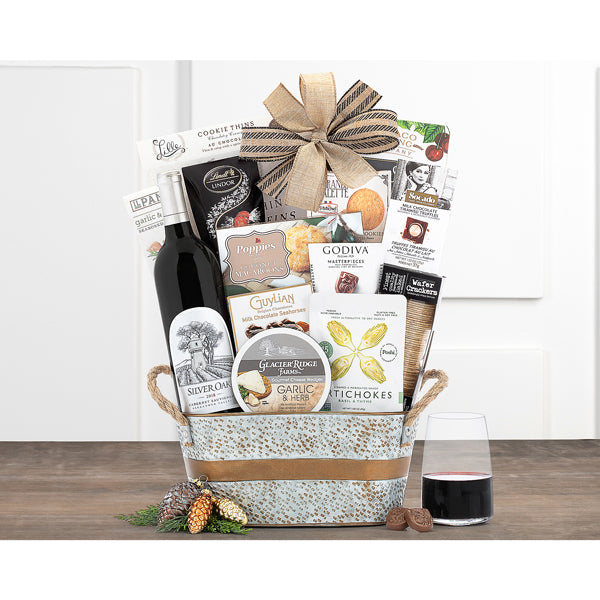 Does NOT ship to AR, CO, GA, KS, KY, ME, MI, MS, NY, OH, OK, SD, TX, UT, or VT.
Silver Oak Alexander Valley cabernet is warm and inviting with notes of red currant, cassis, ripe plum, cardamom and toffee leading to a long and beautiful finish.
It is paired with cracked pepper crackers, garlic herb cheese wedges, Godiva milk chocolate caramels, coconut macaroons, chocolate cookies, Lindt milk chocolate truffles, French butter cookies with sea salt, cherry strudel cookies, basil thyme artichoke snacks and more for this distinguished gift.
Contents include:
Silver Oak Alexander Valley Cabernet Sauvignon (750ml)
Godiva Milk Chocolate Caramels (2pc)
Guylian Milk Chocolate Seahorses (3pc)
Garlic & Herb Dip Mix (1oz)
La Grande Galette French Butter Cookies with Sea Salt (1.76oz)
Lille Chocolate Cookie Thins (3oz)
Lindt Lindor Milk Chocolate Truffle Balls (2pc)
Poppies Coconut Macaroons (2pc)
Socado Tiramisu Milk Chocolate Truffles (3pc)
Glacier Ridge Farms Garlic & Herb Cheese Wedges (4oz)
Cherry Strudel (4.4oz)
Olina's Bakehouse Light and Crispy Wafer Cracked Pepper Crackers (3.5oz)
Poshi Artichokes Basil & Thyme (1.58oz)
Gift Size 11" x 7" x 14"