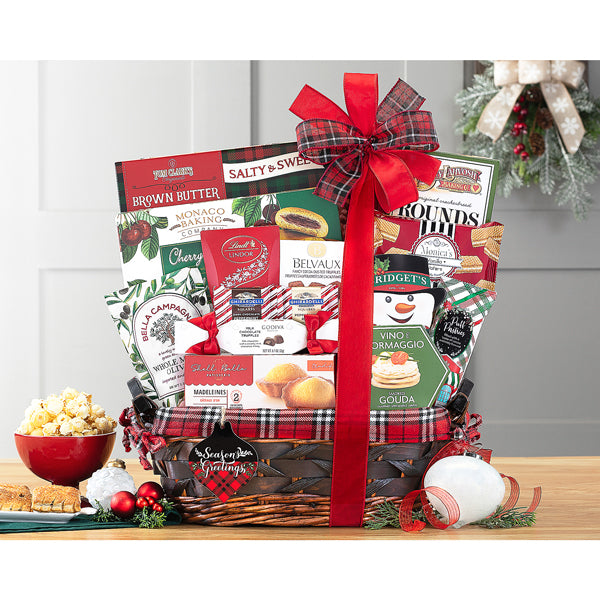 Capture the spirit of the season with this basket of crowd-pleasing holiday favorites. With Godiva and Lindt milk chocolate truffles, kettle corn, dark chocolate peppermint truffles, Ghirardelli milk and dark chocolate peppermint bark, olives, Valley Lahvosh baked sesame crackers, smoked Gouda cheese spread, cherry strudel cookies, madeleine cakes, cocoa dusted truffles, vanilla wafers and puff pastries, there's something for everyone in this fun and festive gift basket.
Contents include: 
Belvaux Cocoa Dusted Truffles (3pc)
Bridget's Peppermint/Dark Chocolate Truffles (2pc)
Vino e Formaggio Smoked Gouda Cheese Spread (3.5oz)
Godiva Milk Chocolate Truffles (2pc)
Lindt Lindor Milk Chocolate Truffle Balls (2pc)
Shell Bella Madeleine (2pc)
Brown Butter Kettle Corn (6oz)
Sesame Crackers (2oz)
Olives (3.5oz)
Ghirardelli Square Peppermint Bark (1pc)
Ghirardelli Square Peppermint Bark w/Dark Chocolate (1pc)
Grona Chocolate Filled Puff Pastries (1.3oz)
Cherry Strudel (4.4oz)
Monica's Vanilla Wafers (2.75oz)
Gift Size: 14" x 9" x 12"