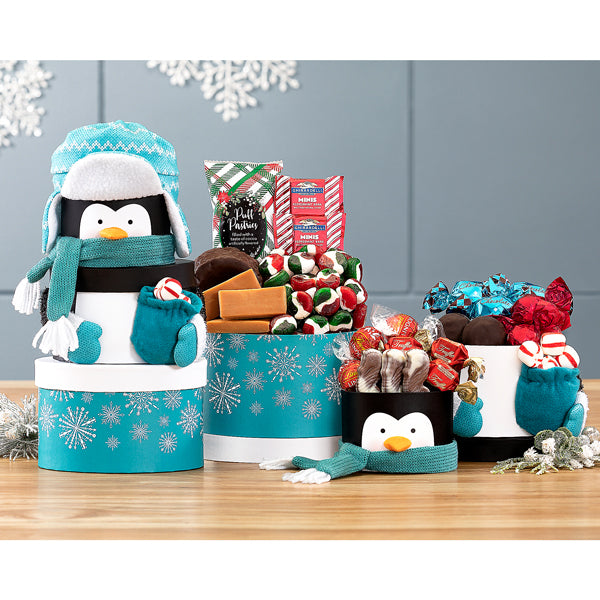 This friendly penguin is brimming with holiday goodness. Lindt Lindor milk chocolate truffles, dark chocolate covered marshmallows, classic English fudge with sea salt, chocolate filled puff pastry, peppermint candy, Belvaux and Guylian traditional Belgian chocolate truffles, Ghirardelli milk chocolate peppermint bark - a blend of milk chocolate, white chocolate and pepperment packaged for the holidays, Italian milk chocolate pralines, tutti frutti candy, Yves Thuries French dark chocolate truffles and more make this penguin a welcome guest at any party.

Contents include:

Guylian Temptations Milk Truffle (3pc)
Lindt Lindor Milk Chocolate Truffle Balls (3pc)
Belvaux Traditional Truffles (3pc)
Chocmod Dark Chocolate Covered Marshmallows (2pc)
Gateau Celeste Chocolate Sauce Souffle Cake (1.94oz)
Yves Thuries Dark Chocolate Ganache Truffle Ball (3pc)
Ghirardelli Square Mini Holiday Peppermint Bark (2pc)
Tutti Frutti Hard Candies (4oz)
Underground Fudge Company Classic English Fudge Sea Salt (3pc)
Socado Milk Chocolate Filled Milk Cream and Cereals (3pc)
Grona Cushion Chocolate Filled Puff Pastries (1.3oz)
King Leo Peppermint Puffs (4pc)

Gift Size: 10" x 6" x 5"