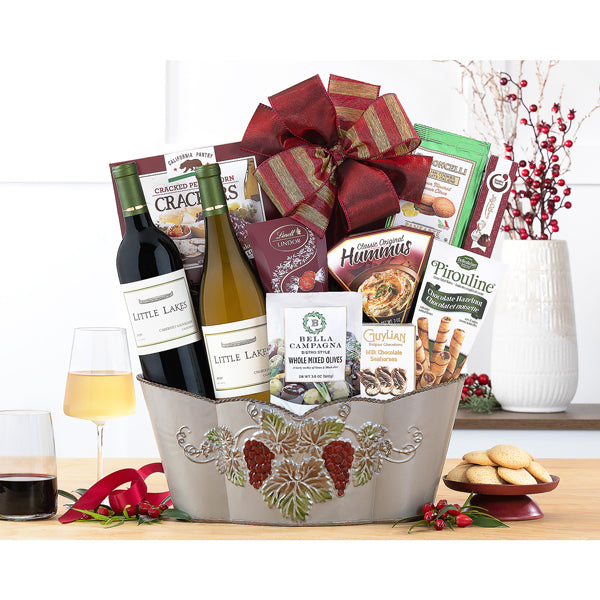 Does NOT ship to MS, SD, or UT.
Little Lakes Cellars cabernet sauvignon with flavors of black cherry and spice, chardonnay with crisp apple and melon notes, and an assortment of Lindt milk chocolate truffles, cracked peppercorn crackers, hummus, Lily O'Brien's sticky toffee, Pirouline chocolate hazelnut wafers, olives, Italian Limoncelli cookies and Belgian milk chocolate seahorse truffles are an ideal introduction to Little Lakes Cellars wines and an excellent way to spread a little California joy to friends, family and clients.
Contents include: 
Little Lakes:
Cabernet Sauvignon (750ml)
Chardonnay (750ml)
Cracked Peppercorn Crackers (2.5oz)
Guylian Milk Chocolate Seahorses (3pc)
Hummus - Original Flavor (3oz)
Lily O'Brien's Sticky Toffee (3pc)
Lindt Lindor Milk Chocolate Truffle Balls (2pc)
Pirouline Chocolate Hazelnut Wafer Cookies (3.25oz)
Bella Campagna Mixed Olives (3.5oz)
Panearte Limoncelli Cookies (2.82oz)
Gift Size: 15" x 7" x 13"