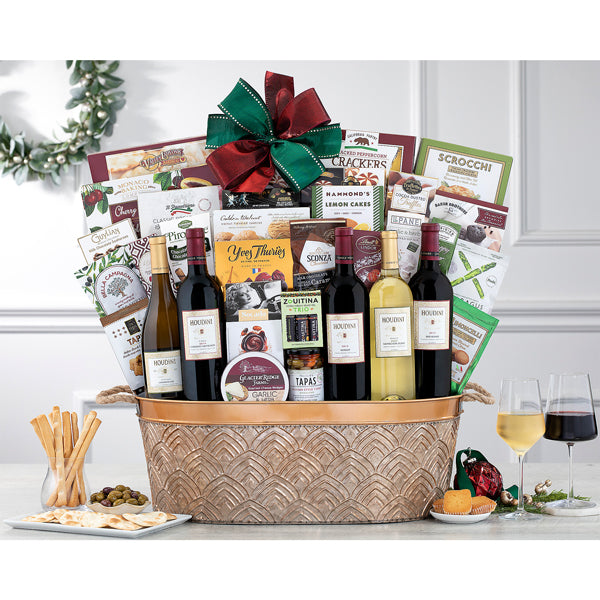 Does not ship to MS, SD, or UT.
Five bottles of award-winning Houdini Napa Valley wine including cabernet, merlot, chardonnay, red blend and sauvignon blanc are paired with tremendous selection of sweet savory fare. Truffettes truffles, chocolate cream cookies, lemon cakes, Italian rosemary crackers, garlic herb cheese spread, Spanish style tapas, peppercorn crackers, rosemary oregano asparagus snacks, vanilla sea salt caramels, brownies, Lindt milk chocolate truffles and more fill this extraordinary gift basket.
Contents include:  
Houdini:
Cabernet Sauvignon (750ml)
Chardonnay (750ml)
Merlot (750ml)
Red Blend (750ml)
Sauvignon Blanc (750ml)
Baker Brothers Chocolate Brownies (2pc)
Guylian Milk Chocolate Seahorses (3pc)
Cracked Peppercorn Crackers (2.5oz)
Lemon Cakes (3pc)
Walnut Cookies (3oz)
Lindt Lindor Milk Chocolate Truffle Balls (2pc)
Maxim's Milk Chocolate Covered Hazelnuts (4pc)
Olives (3.5oz)
Poshi Asparagus Rosemary & Oregano (1.34oz)
Bread Sticks (4.4oz)
Glacier Ridge Farms Garlic & Herb Cheese Wedges (4oz)
Cherry Strudel (4.4oz)
Zouitina Extra Virgin Olive Oil Boxed Set (2oz)
& More
Gift Size: 23" x 15" x 14"