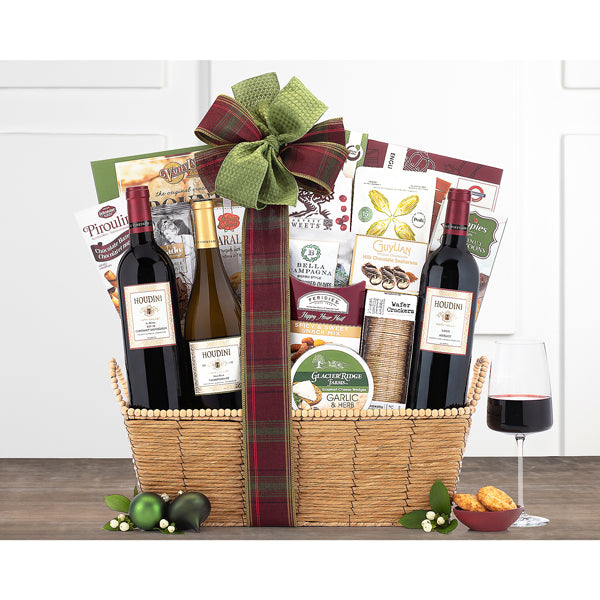 Does NOT ship to MS, SD, or UT.
These Houdini Vineyards Napa Valley wines have won more than one hundred wine competition medals! Napa Valley cabernet is big and fruity; perfectly balanced chardonnay with just the right amount of oak, smooth merlot and a large selection of gourmet snacks including vanilla fudge with sea salt, sesame crackers, garlic herb cheese wedges, coconut macaroons, Lily O'Brien's sticky toffee, Pirouline chocolate hazelnut wafers, olives, an Italian milk chocolate bar and more complete this exquisite trio.
Contents include: 
Houdini:
Cabernet Sauvignon (750ml)
Chardonnay (750ml)
Merlot (750ml)
Lily O'Brien's Sticky Toffee (3pc)
Feridies Happy Hour Heat Snack Mix (1.5oz)
Guylian Milk Chocolate Seahorses (3pc)
Harvest Sweets Creamy White Covered Cranberries (1.5oz)
Pirouline Chocolate Hazelnut Wafer Cookies (3.25oz)
Poppies Coconut Macaroons (2pc)
Vanilla Fudge with Sea Salt (5.3oz)
Sesame Crackers (4oz)
Olives (3.5oz)
Dolcezze & Sapori Taralli Italian Pretzels w/Olive Oil (2.82oz)
Glacier Ridge Farms Garlic & Herb Cheese Wedges (4oz)
Poshi Artichokes Basil & Thyme (1.58oz)
& More
Gift Size: 18" x 8" x 14"