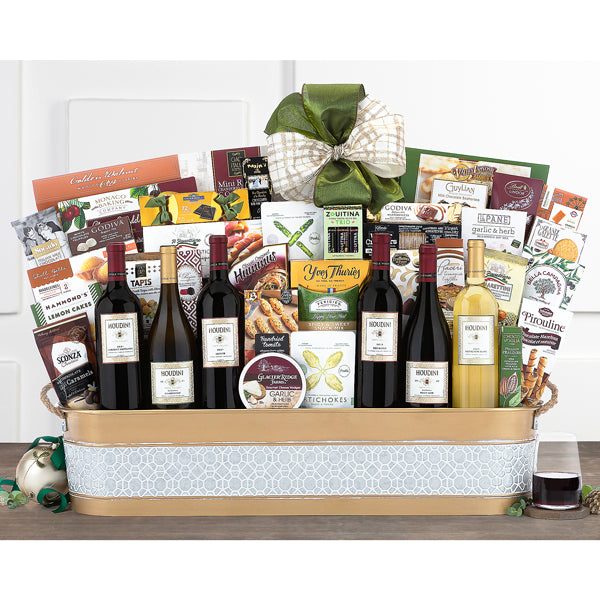 Does NOT ship to MS, SD, or UT.
Houdini award-winning Napa Valley pinot noir, cabernet, merlot, chardonnay, red blend and sauvignon blanc are paired with a large collection of Ghirardelli dark chocolate, Godiva milk and white chocolate, sesame cranberry cookies, olives, crackers, garlic herb cheese wedges, tomato and cheese baguettes, lemon cakes, walnut cookies, Piroulines, French butter cookies, Lindt milk chocolate truffles and more to create this extraordinary fine wine gift collection that is sure to impress.
Contents include:

Houdini Wine:
Cabernet Sauvignon (750ml)
Chardonnay (750ml)
Merlot (750ml)
Red Blend (750ml)
Sauvignon Blanc (750ml)
Pinot Noir (750ml)
Choco Voglia Cream Filled Truffles (1.32oz)
Godiva White Chocolate Truffles (2pc)
Walnut Cookies (6oz)
Guylian Milk Chocolate Seahorses (3pc)
Lemon Cakes (3pc)
Hummus (3oz)
La Grande Galette French Butter Cookies with Sea Salt (1.76oz)
Le Preziose Blackberry & Raspberry Fruit Jellies (6pc)
Lindt Lindor Milk Chocolate Trufle Balls (2pc)
Poshi Artichokes Basil & Thyme (1.58oz)
Zouitina Extra Virgin Olive Oil Boxed Set (2oz)
& More
Gift Size: 33" x 9" x 14"