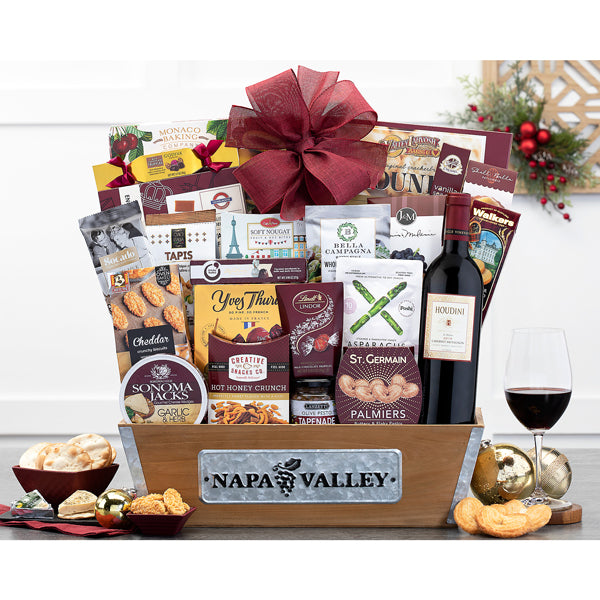 Does NOT ship to MS, SD, or UT. 
Houdini Napa Valley cabernet sauvignon is big and fruity with plum, black cherry and warm spice flavors followed by a long, smooth finish. Vanilla fudge with sea salt, sesame crackers, olive tapenade, garlic herb cheese wedges, Godiva milk chocolate truffles, Walkers shortbread cookies, Lindt milk chocolate truffles, cabernet wine biscuits, cheddar cheese biscuits, olives and more round out this incredible Napa Valley cabernet gift basket.

Contents include: 
Houdini Cabernet Sauvignon (750ml)
Soft Nougat Fruit & Nut Bites (4pc)
Vanilla Sea Salt Caramels (4pc)
Hot Honey Crunch Mix (1.5oz)
Godiva Milk Chocolate Truffle (2pc)
J&M Cabernet Wine Biscuits (2.5oz)
Lily O'Brien's Sticky Toffee (3pc)
Lindt Lindor Milk Chocolate Truffle Balls (2pc)
Shell Bella Madeleine (1pc)
Vanilla Fudge with Sea Salt (5.3oz)
Valley Lahvosh Sesame Rounds Crackers (4oz)
Olives (3.5oz)
Sonoma Jacks Cheese Wedges Garlic & Herb (4oz)
Socado Italian Milk Chocolate Bar (3.53oz)
Lanzetti Pesto Olive Tapenade (6.5oz)
& More
Gift Size: 18" x 8" x 13"