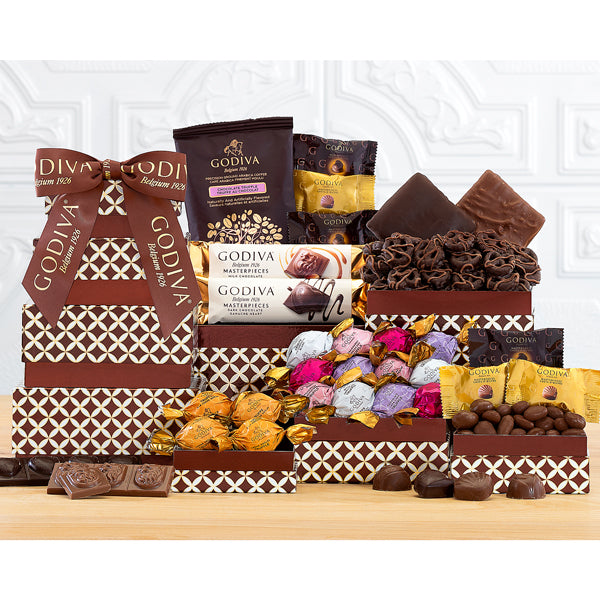 This Godiva gift tower is a sure way to any chocolate lover's heart. A complete collection of chocolate truffles including strawberry cheesecake, lava cake, creme brulee, milk, white and dark chocolate, milk chocolate covered raisins, dark chocolate graham crackers, milk chocolate caramel lion and dark chocolate ganache heart bars, chocolate truffle coffee and more are shipped free, on ice, all summer long.
Contents include:

Godiva:
Chocolate Lava Cake Truffle (3pc)
Milk Chocolate Truffle (3pc)
White Chocolate Truffle (3pc)
Creme Brulee Truffle (4pc)
Chocolate Truffle Coffee (2oz)
Strawberry Cheesecake Truffle (3pc)
Single Dark Chocolate Ganache Heart (3pc)
Single Milk Chocolate Hazelnut Oyster (3pc)
Mini Dark Chocolate Mini Pretzels (2.5oz)
Milk Chocolate Covered Graham (1pc)
Masterpiece Dark Chocolate Ganache Heart Bar (1oz)
Masterpiece Milk Chocolate Caramel Lion Bar (1.1oz)
Dark Chocolate Covered Graham (1pc)
Milk Chocolate Covered Raisins (1.2oz)

Gift Size: 6" x 4" x 11"