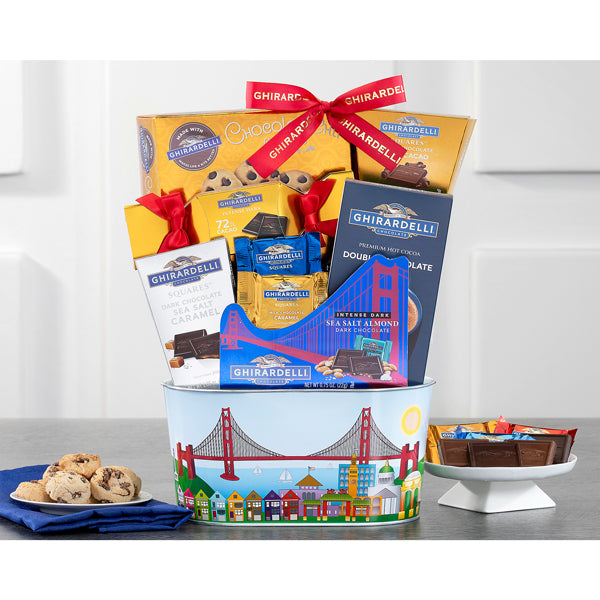 This delightful collection of Ghirardelli favorites will make someone's day. It includes many different varieties of Ghirardelli squares; dark chocolate caramel sea salt, intense dark twilight delight, milk chocolate and dark chocolate 60% cacao. Also includes Red Thread cookies with Ghirardelli chocolate chips and double chocolate cocoa. In addition, this great chocolate gift comes nestled inside a metal basket displaying San Francisco's Golden Gate Bridge, home of world renowned Ghirardelli chocolate company.

Contents include:

Ghirardelli:
Double Chocolate Cocoa (0.85oz)
Dark & Caramel Sea Salt Square (2pc)
Milk Chocolate Square (1pc)
Dark Chocolate 60% Cacao Squares (2pc)
Intense Dark Twilight Delight Squares (3pc)
Dark Chocolate Sea Salt Almond Square (2pc)
Red Thread Chocolate Chip Cookies (3oz)
Milk Chocolate w/Caramel Square (1pc)
Gift Size: 9" x 6" x 10"