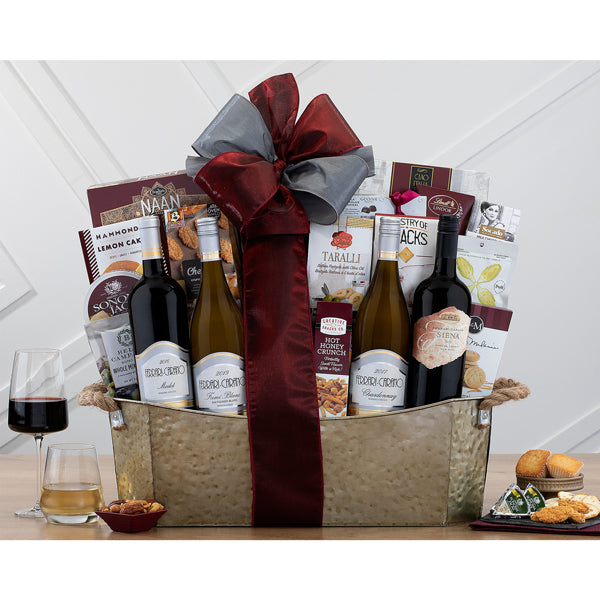 Does NOT ship to AR, CO, GA, KS, KY, ME, MI, MS, NY, OH, OK, SD, TX, UT, or VT.
Raise the bar with four world-class wines from Ferrari-Carano Vineyards and a wonderful selection of complementary food. Ferrari-Carano siena has delicious aromas of toasted graham cracker, plum, raspberry and mocha that leads to flavors of baked cherry pie, a full-bodied chardonnay, a fume blanc with tropical citrus flavors and a silky Sonoma County merlot are brought together with a collection of mixed olives, garlic and herb cheese spread, cookies, crackers and more.

Contents include:
Ferrari Carano:
Merlot (750ml)
Chardonnay (750ml)
Siena (750ml)
Fume Blanc (750ml)
Ciao Italia Mini Ritelle Cranberry & Sesame Cookies (3.52oz)
Olives (3.5oz)
Godiva Truffle Milk Chocolate (2pc)
J&M Caramel Sea Salt Cookies (2.5oz)
Svadista Naan Crisps (2.5oz)
Sonoma Jacks Garlic & Herb Cheese Wedges (4oz)
Poshi Artichokes Basil & Thyme (1.58oz)
Ministry of Snacks Bacon Habanero Bites (2.8oz)
& More
Gift Size: 26" x 11" x 14"