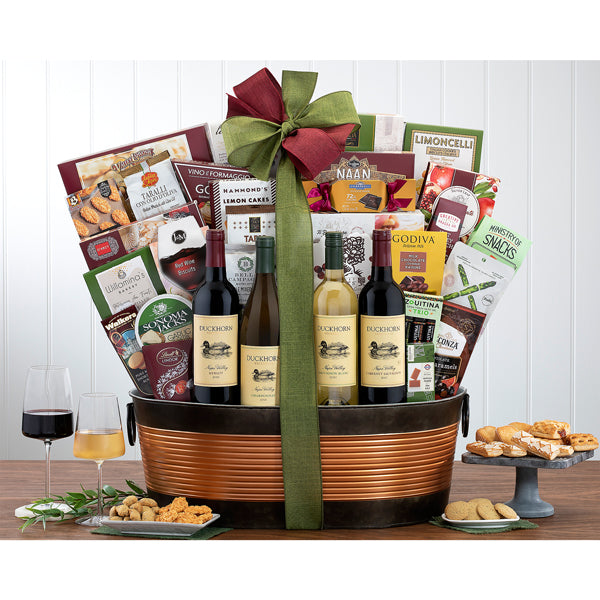 Does NOT ship to AR, CO, GA, KS, KY, ME, MI, MS, NY, OH, OK, SD, TX, UT, or VT. 
Duckhorn Vineyards Napa Valley cabernet sauvignon has aromas of black raspberry, vanilla bean and milk chocolate; chardonnay showcases Bosc pear and apple flavors.
Merlot, with notes of plum, violet and sticky toffee, and crisp sauvignon blanc with layers of grapefruit, summer melon and lemongrass complete this fine Napa Valley quartet. Sonoma Jacks garlic and herb cheese spread, Godiva milk chocolate covered raisins, mixed olives, lemon cakes and plenty more make this gift so fun to open and share.

Contents include:
Duckhorn Vineyards Napa Valley:
Cabernet Sauvignon (750ml)
Merlot (750ml)
Chardonnay (750ml)
Sauvignon Blanc (750ml)
Bacon Habanero Bites (2.82oz)
Lemon Cakes (3pc)
Lindt Lindor Milk Chocolate Truffle Balls (2pc)
Vino e Formaggio Smoked Gouda Cheese Spread (3.5oz)
Creative Snacks Hot Honey Crunch Mix (1.5oz)
Svadista Naan Crisps (2.5oz)
Poshi Asparagus Rosemary & Oregano (1.34oz)
Olives (3.5oz)
Zouitina Extra Virgin Olive Oil Boxed Set (2oz)
Sonoma Jacks Cheese Wedges Garlic & Herb (4oz)
and More

Gift Size: 22" x 16" x 14"