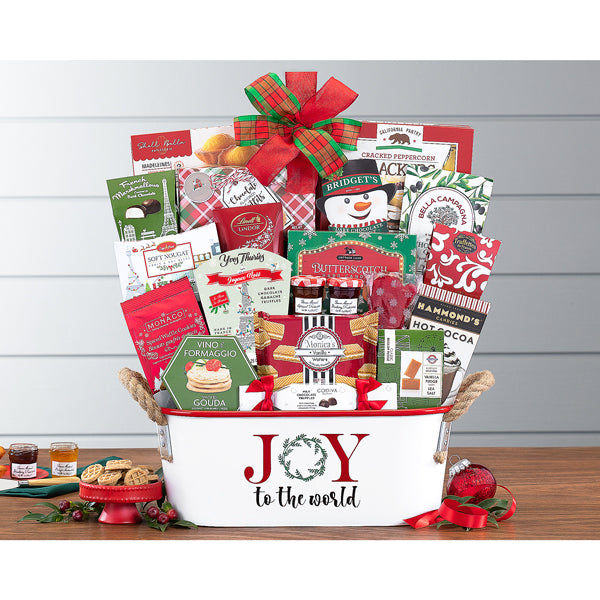 Share the joy of the holidays with this festive collection. Godiva and Lindt milk chocolate truffles, cracked peppercorn crackers, smoked Gouda cheese spread, spiced waffle cookies, dark chocolate covered marshmallows, olives, strawberry and apricot preserves, hot cocoa, vanilla fudge with sea salt, madeleine cakes, dark chocolate peppermint truffles, vanilla wafers, peanut fruit nougats, chocolate cookies, Truffettes dark chocolate truffles, butterscotch and more deliver holiday cheer to friends and family.
Contents include:
Bridget's Peppermint/Dark Chocolate Truffles (2pc)
Soft Nougat Fruit & Nut Bites (4pc)
Cracked Peppercorn Crackers (2.5oz)
Vino e Formaggio Smoked Gouda Cheese Spread (3.5oz)
Chocmod French Marshmallows Covered in Dark Chocolate (3pc)
Butterscotch Flavored Hard Candies (3oz)
Godiva Milk Chocolate Truffles (2pc)
Hammond's Hot Cocoa Mix (0.85oz)
Lindt Lindor Milk Chocolate Truffle Balls (2pc)
Shell Bella Madeleine (2pc)
Yves Thuries Dark Chocolate Ganache Truffle (4pc)
Bella Campagna Olives (3.5oz)
Monica's Vanilla Wafers (2.75oz)
Vanilla Fudge with Sea Salt (2pc)
& More
Gift size 15" x 7" x 12"