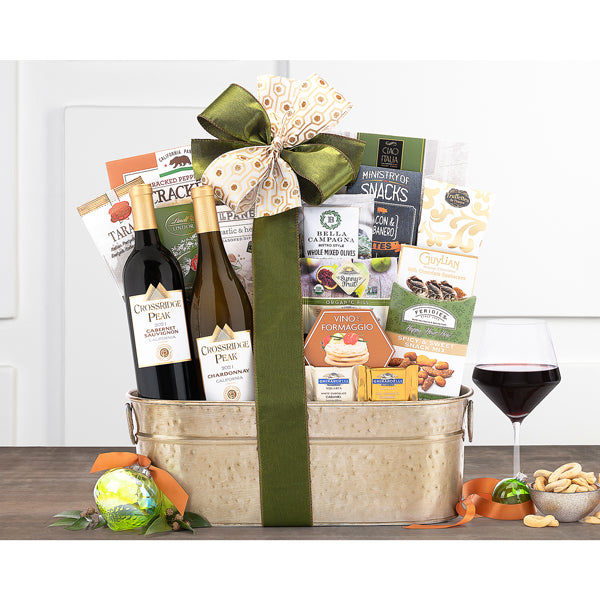 Does NOT ship to MS, SD, or UT. 
Two Crossridge Peak California wines arrive with an exceptional selection of gourmet fare. Rich, fruity cabernet and creamy chardonnay with apple and citrus flavors pair perfectly with this assortment of Italian cranberry sesame cookies, Ghirardelli white and milk chocolate with caramel, peppercorn crackers, smoked Gouda cheese spread, organic dried figs, bacon habanero snacks, Lindt milk chocolate truffles, olives, spicy snack mix, taralli Italian pretzels, Truffettes truffles and more.
Contents include: 
Crossridge Peak:
Cabernet Sauvignon (750ml)
Chardonnay (750ml)
Cracked Peppercorn Crackers (2.5oz)
Vino e Formaggio Smoked Gouda Cheese Spread (3.5oz)
Ciao Italia Mini Ritelle Cranberry & Sesame Cookies (3.52oz)
Feridies Happy Hour Heat Snack Mix (1.5oz)
Guylian Milk Chocolate Seahorses (3pc)
Il Pane Garlic & Herb Dip Mix (1oz)
Lindt Lindor Milk Chocolate Truffle Balls (2pc)
Bacon Habanero Bites (2.8oz)
Truffettes de France Cocoa Dusted Truffles (4pc)
Olives (3.5oz)
Ghirardelli Square White Chocolate Caramel (1pc)
& More
Gift Size: 17" x 7" x 15"