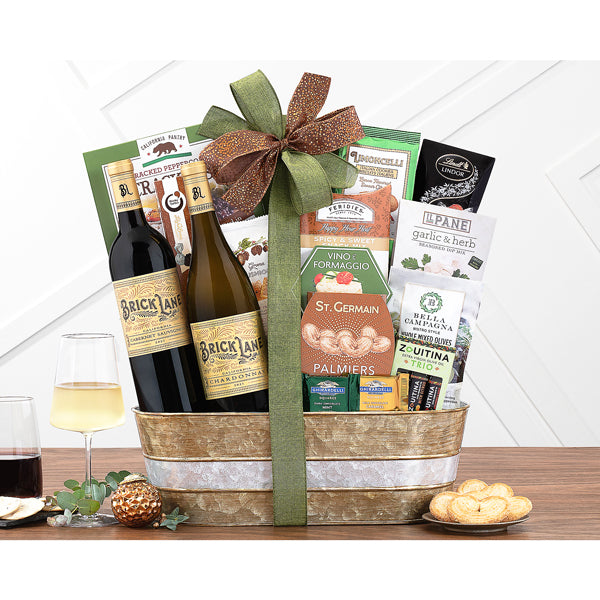 Does not ship to MS, SD, or UT.
Brick Lane Wine Works cabernet with dark fruit flavors, and chardonnay with sweet honeydew, ripe pear and peach notes are brought together with a large collection of sweet and savory fare. Cracked peppercorn crackers, smoked Gouda cheese spread, Ghirardelli mint dark chocolate and milk chocolate with caramel, Limoncelli cookies, Lindt milk chocolate truffles, olives, puff pastries, spicy snack mix, a trio of olive oils, garlic herb dip mix and more are beautifully packaged in this metal gift basket.
Contents include:
Brick Lane:
Cabernet Sauvignon (750ml)
Chardonnay (750ml)
Cracked Peppercorn Crackers (2.5oz)
Vino e Formaggio Smoked Gouda Cheese Spread (3.5oz)
Feridies Happy Hour Heat Snack Mix (1.5oz)
Garlic & Herb Dip Mix (1oz)
Lily O'Brien's Sticky Toffee (3pc)
Lindt Lindor Milk Chocolate Truffle Balls (2pc)
St. Germain Palmiers Pastry (1.27oz)
Olives (3.5oz)
Ghirardelli Dark Chocolate Mint Square (1pc)
Ghirardelli Square Milk Chocolate w/Caramel (1pc)
Grona Chocolate Filled Puff Pastries (1.3oz)
Panearte Limoncelli Cookies (2.82oz)
Zouitina Extra Virgin Olive Oil Boxed Set (2oz)

Gift Size: 15" x 7" x 13"