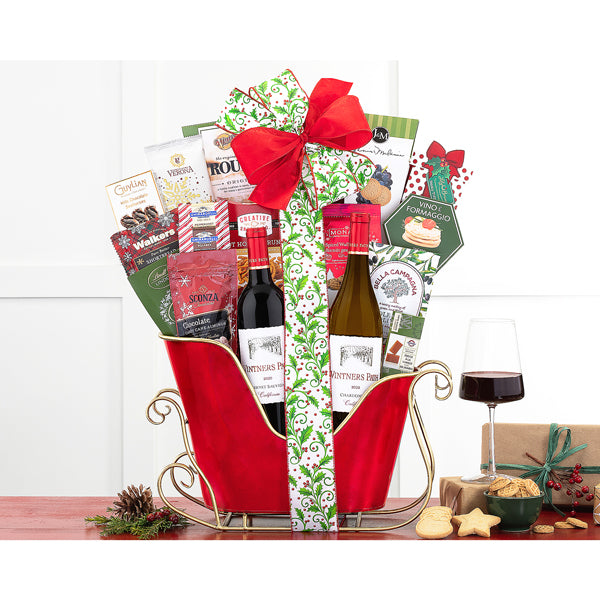 This gift cannot be shipped to MS. SD, or UT.
This grand sleigh arrives with Vintners Path Winery medium-bodied California cabernet with smooth dark fruit flavors, and chardonnay with green apple, peach and citrus notes. Lily O'Brien's sticky toffee, Guylian and Lindt milk chocolate truffles, Walkers shortbread cookies, sesame crackers, smoked Gouda cheese spread, olives, an Italian milk chocolate bar, Ghirardelli milk and dark chocolate peppermint bark, vanilla fudge, cabernet wine biscuits and more will help spread some joy this holiday season.

Contents include:

Vintners Path Winery:
Cabernet Sauvignon (750ml)
Chardonnay (750ml)
Smoked Gouda Cheese Spread (3.5oz)
Hot Honey Crunch Mix (1.5oz)
Guylian Milk Chocolate Seahorses (3pc)
J&M Cabernet Wine Biscuits (2.5oz)
Lily O'Brien's Sticky Toffee (3pc)
Lindt Lindor Milk Chocolate Truffle Balls (2pc)
Vanilla Fudge with Sea Salt (2pc)
Sesame Crackers (2oz)
Olives (3.5oz)
Italian Milk Chocolate Bar (3.53oz)
Ghirardelli Square Peppermint Bark (1pc)
Spiced Waffle Cookies (2.82oz)
Candy Cane Almonds (2.82oz)
Walkers Shortbread Cookies (2pc)
Ghirardelli Square Peppermint Bark w/Dark Chocolate (1pc)
Gift Size: 17" x 7" x 14"