6 Tier Happy Halloween Tower of Treats
Costco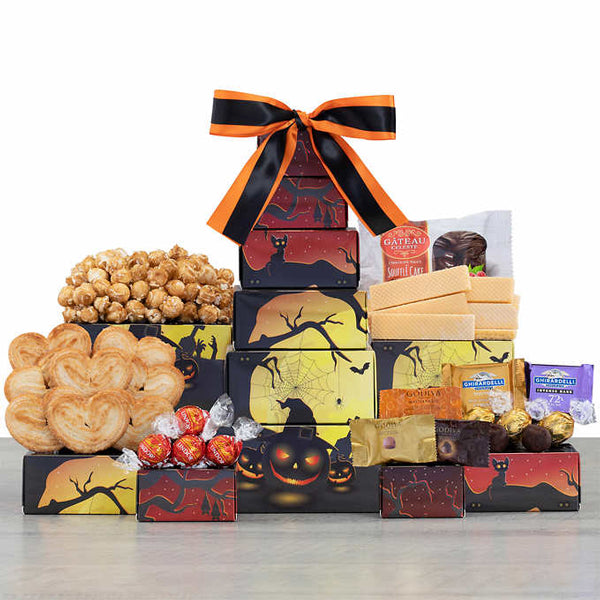 No tricks, just treats! This 6 Tier Halloween Tower of Treats is filled with a spooky assortment of everyone's favorite candy! From mouthwatering Godiva Chocolate, to smooth and creamy Lindt Lindor Milk Chocolate and classic Ghirardelli squares, what's not to love! But wait, there is much more like Monica's Vanilla Wafers, Truffettes de France cocoa dusted truffles, Tom Clark caramel popcorn, and more! Perfect for sharing not scaring!

Contents include:
0.30 oz. Godiva Masterpieces Milk Chocolate Hazelnut Oyster
0.30 oz. Godiva Masterpieces Milk Chocolate Caramel Lion
0.30 oz. Godiva Masterpieces Dark Chocolate Ganache Heart
1.68 oz. Lindt Lindor Milk Chocolate Truffle Balls (4 pc)
0.53 oz. Ghirardelli Square Milk Chocolate w/Caramel Filling
0.37 oz. Ghirardelli Square Intense Dark 72% Cacao
1.32 oz. Socado Milk Chocolate Tiramisu Truffle
0.52 oz. Truffettes de France Cocoa Dusted Truffles (2 pc)
2.54 oz. St. Germain Palmiers (2 pc)
1.94 oz. Gateau Celeste Chocolate Sauce Soufflé Cake
2.75 oz. Monica's Vanilla Wafers
6.00 oz. Tom Clark Caramel Popcorn
6-High Foldable Paper Box Tower with Halloween Theme

Gift Size: 13.25" x 6" x 4.75"