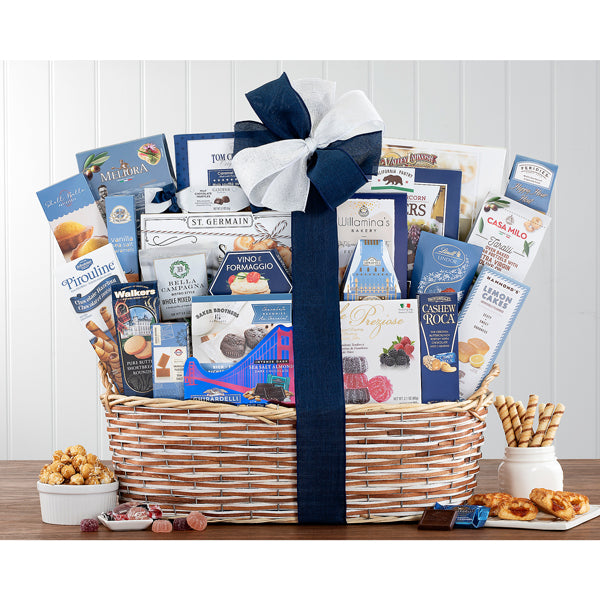 This unique willow basket is brimming with some of our most delicious confections.
Godiva dark chocolate bar, smoked Gouda cheese spread, kettle corn popcorn, Poshi basil and thyme artichokes snacks, bacon habanero bites, Le Preziose blackberry and raspberry fruit jellies, crackers and more are meticulously arranged in this large basket.
It not only tastes great, it makes a lasting impression on all who receive it.
Contents include:
English Tea (20ct)
Baker Brothers Chocolate Brownies (2pc)
Brown & Haley Cashew Roca (2pc)
Cracked Peppercorn Crackers (2.5oz)
Vanilla Sea Salt Caramels (4pc)
Vino e Formaggio Smoked Gouda Cheese Spread (3.5oz)
Spicy Honey Crunch Snack Mix (1.5oz)
Ghirardelli Squares Dark Chocolate Sea Salt Almond (2pc)
Godiva Truffle Milk Chocolate (2pc)
Lemon Cakes (2pc)
Lindt Lindt Milk Chocolate Truffle Balls (2pc)
Le Preziose Assorted Fruit Jellies (2.1oz)
Meliora Garlic & Herb Bruschette (2.82oz)
Caramel Popcorn (3oz)
Olives (3.5oz)
Shell Bella Madeleine (2pc)
& More


Gift Size: 21" x 10" x 13"