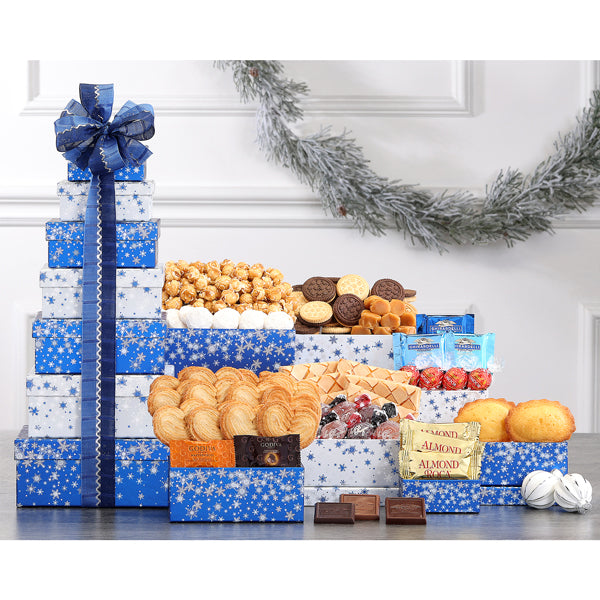 Holiday favorites fill this seven-story snowflake covered tower. Boxes are filled with Grona puff pastries, Ghirardelli milk and dark chocolate squares, caramel popcorn, Lindt Lindor milk chocolate truffle balls, vanilla caramels, almond powdered tea cookies, Brown and Haley almond roca, Godiva milk and dark chocolates, Shell Bella madeleine cakes and Le Preziose fruit jellies, it's the perfect choice for winter and holiday gift giving.
Contents include:
Lindt Lindor Truffle Balls Milk Chocolate (4pc)
Brown & Haley Almond Roca (3pc)
Godiva Masterpieces Single Milk Chocolate Caramel Lion (1pc)
Godiva Masterpieces Single Dark Chocolate Ganache Heart (1pc)
Vanilla Caramels (3oz)
Shell Bella Madeleine Cake (2pc)
Le Preziose Sugared Jellies Blackberry & Raspberry (2.1oz)
Abimar Duplex Cookies (5oz)
Almond Tea Cookies (3oz)
Grona Puff Pastries (6pc)
Caramel Popcorn (6oz)
Ghirardelli Square Dark & Caramel Sea Salt (1pc)
Ghirardelli Square Milk Chocolate (1pc)
Ghirardelli Square Milk Chocolate Sea Salt Almond (1pc)
Gift Size: 7" x 6" x 17"