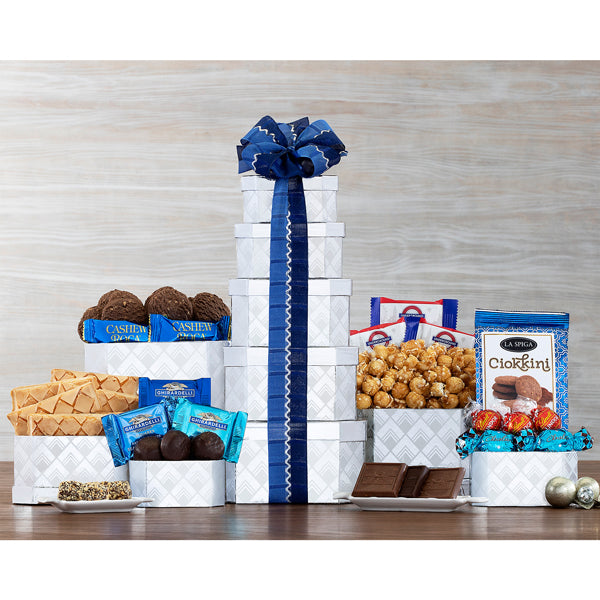 You really can't go wrong with this indulgent tower packed with rich chocolates and sweet delights from Ghirardelli, Lindt and more. Five reusable boxes are filled with Ghirardelli dark and milk chocolate squares, Lindt milk chocolate truffle balls, Brown and Haley cashew roca, English fudge with sea salt, dark chocolate covered marshmallows, caramel popcorn, Grona puff pastries and La Spiga cookies. The perfect gift for friends, family or business associates this holiday season.

Contents Include:
Brown & Haley Cashew Roca (2pc)
Ghirardelli Square Dark & Caramel Sea Salt (1pc)
Ghirardelli Square Milk Chocolate (1pc)
Ghirardelli Square Milk Chocolate Sea Salt Almond (1pc)
Lindt Lindor Milk Chocolate Truffle Balls (3pc)
Underground Fudge Company Classic English Fudge Sea Salt (3pc)
Socado Truffle Milk Chocolate Filled Milk Cream and Cereals (2pc)
Grona Puff Pastries (3pc)
Caramel Popcorn (3pc)
La Spiga Ciokkini Cookies (2.82oz)
Chocmod Dark Chocolate Covered Marshmallows (3pc)
Gift Size: 6" x 4" x 13"